While you may have your fingers crossed for a mild winter, its always a good idea to be prepared for whatever the weather may throw at you – and that includes school closures.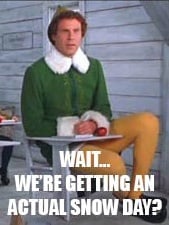 JJC uses an emergency alert system called RAVE to notify students and employees of any emergency situations (including snow days, dangerous situations on campus, and more.) Unless you've opted out of the system, you should receive immediate alert notices via email, home and mobile phones, text messages, the college homepage and the JJC Facebook and Twitter pages.
It's important to remember which channels you've selected to receive the alerts, and to make sure your information is up to date. Don't remember what's listed? Have a new cell number? Checking and updating this information is easy.
Visit my.jjc.edu by clicking on the top right-hand side of the JJC website.
Under

"

Tools,

"

select

"

Emergency Alert System.

"

Plug in your college login and password information.
Your profile should appear and allow you to make any changes. (We suggest entering at least two modes of communication into the system.)
If you'd like another option, www.emergencyclosingcenter.com also provides closing information for schools across the Chicagoland area (and shares this info with many Chicagoland TV and radio stations.) All JJC campuses and extension centers are included in this system.
Still have questions? Contact Kelly Rohder-Tonelli at 815-280-2915 or krohder@jjc.edu.