If you're a regular on JJC's Main Campus in the summer, maybe you've stopped by the JJC Farmers Market on Thursdays for fresh fruits and vegetables, baked goods or other specialty items.
Today, we're highlighting eight great things you can find at our market! Did your favorite make the list?
(Click here for more on the JJC Farmers Market!)
JJC Farmers Market
Thursdays in the Summer
2 p.m. to 6 p.m.
JJC Greenhouse Parking Lot (right off Houbolt Road)
Link and SNAP cards accepted


1. Coffee Cakes
Dave's Coffee Cake
In addition to the delicious cakes, Dave's also sells canned green beans, pickled asparagus, brussels sprouts and more. Learn more at davescoffeecake.com.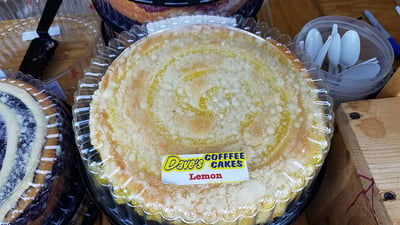 2. Popcorn (on the Cob)
Lange Family Farms, LLC
Looking for a new way to make popcorn? Try Lange's popcorn on the cob! Lange Family Farms is a popular vendor at the Farmers Market because of its fresh fruits and vegetables, which include beets, kale, cucumbers, potatoes and more. Learn more at langesfarm.com.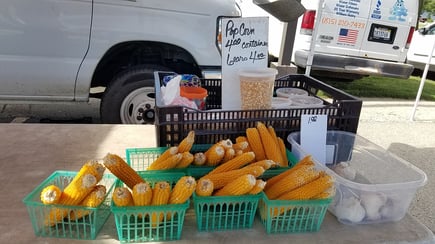 3. Seedless Watermelon
Six Generations Farmin Local, Inc.
You can't have summer without watermelon! Pick up several seedless varieties at the Six Generations stand. The farm also sells fresh broccoli, green beans, corn, mushrooms and more. Learn more at facebook.com/Farmlocal6.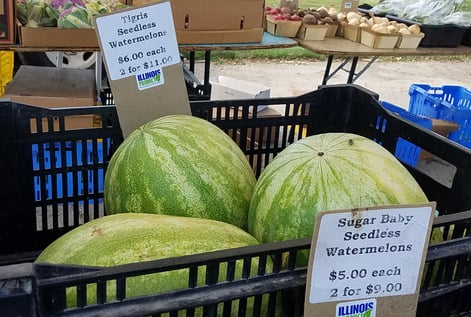 4. Chocolate Chip Cookies
Blackbird Bakehouse
A trip to the Farmers Market wouldn't be complete without stopping by the Blackbird Bakehouse stand! They have delicious chocolate chip cookies, among other baked goods, which include wild yeast sourdough loaves, European-style pastries, cakes and more. Learn more at blackbirdbakehouse.com.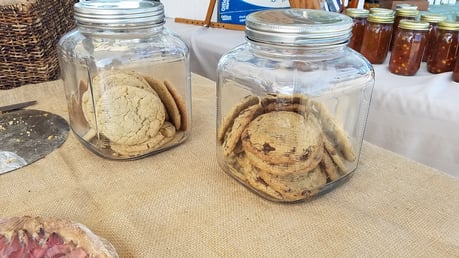 5. All-Natural Honey
Bronkberry Farms
At Bronkberry Farms, they have their own hives, so the honey they sell at the Farmers Market is fresh and delicious. They also sell homemade BBQ sauce, cheese dip, steak sauce, salad dressing, syrup and more. Learn more at bronkberryfarms.com.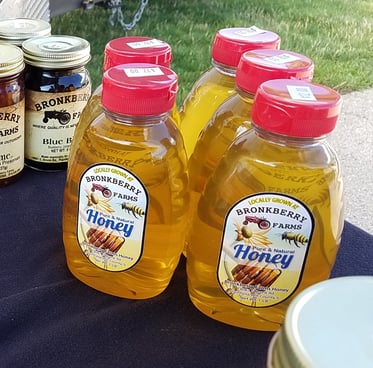 6. All-Natural Lotion and Deodorant
Joyful Seasons
Joyful Seasons offers scents ranging from vanilla to lavender and sandlewood (unscented options also available). In addition to their all-natural lotion and deodorant, they also sell bars of soap, hand soap, lip balm and more. Learn more at joyfulseasons.com.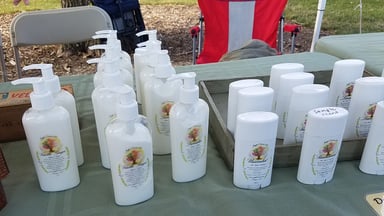 7. Cinnamon Muffins
M&M Specialties, LTD
If you're in the mood for a sweet treat, check out the cinnamon muffins at the M&M Specialties stand! They also sell pies, cookies, cupcakes and more. Learn more at mnmspecialties.com.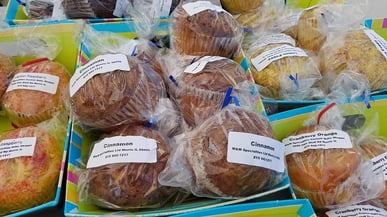 8. Flowers
Sunset Growers
Looking for something to brighten your yard? Visit the Sunset Growers stand, where they sell fresh floral baskets, potted annuals, perennials and lawn ornaments. Learn more at sunsetgrowers.com.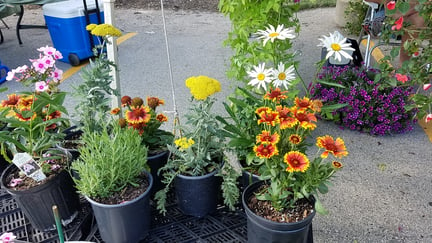 More JJC Farmers Market Vendors
Albo Acres
Alpaca garmets, gloves, handbags and more
Blee's Smokin Delicious
Smoked meats, jerky, seasonings, rubs and more
Cheesecake by James
Assorted cheesecake slices
Chiro One
Chiropractic and wellness services
Country Pond Gardens
Fresh assorted garden vegetables
E&C Enterprise
Fresh assorted berries, apricots and peaches
Guess What's Cooking
Gluten-free baked goods, breads, package mixes and more
Joliet Public Library
Community organization
Knutson Country Harvest/Joyful Seasons
Jams, jellies, pies, pickles, honey and fresh fruit
Lou's Old Fashioned
Fresh baked coffee cakes and canned goods
The Olive Gallery
Artesian olive oils, vinegars and gourmet spices
Parmesans Woodstone Pizza
Fresh baked pizza, breads, pesto, flat bread, pastries, cheese bread and more
Stamper Cheese Company
Fresh assortment of cheese
Witzig Farm Meats
Organic grass-fed beef and pork
AND MORE!
***
Like this post? Check out: