Winter conditions can sometimes have our students and employees asking: Will JJC be closing due to snow or inclement weather?
Below we outline the college's procedures for reviewing this decision, and how to be sure you're notified of any possible announcements.
How To Know When JJC Will Close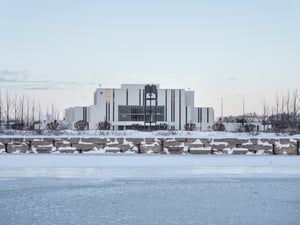 Before making the decision to close, JJC takes road conditions, the closing status of local schools, the readiness of JJC campuses (are the parking lots plowed or are the sidewalks shoveled?) and scheduled classes/activities into consideration.
JJC's closing procedures state that:
If the weather is bad overnight, JJC will make an announcement at 5 a.m. or before for a closing or delayed start.*


Depending on how weather conditions evolve, the college may need to close midday if conditions warrant.

If the weather is bad during the day, JJC will make an announcement to cancel evening classes by 3 p.m. of the current day.

If you don't hear from JJC about a school closing, that means the college is open.

*During a delayed start, any class that begins prior to the start time – no matter the length - will be canceled. This includes extended class periods that may begin before and end after the delayed start time.
How will I be notified?

An immediate notification will be sent via email, phone or text through JJC's emergency alert system, RAVE. Current students and employees are automatically added to RAVE. It is important to check your profile to ensure you will receive notifications according to your preferences. You can manage your profile through these steps:
Log in to

my.jjc.edu.
Under

"

Quick Links,

"

select

"

Manage Emergency Profile.

"

Log in.
View or change your contact information.
You can also check the college's website, Facebook or Twitter pages, plus EmergencyClosingCenter.com for updates on the college's closing status.
Note: In addition to inclement weather, RAVE is also used to communicate campus emergencies.
Do you feel uncomfortable driving to campus?

If you're unsure about traveling to campus due to the weather, we encourage you to contact your professors and to make a safe, personal decision before getting behind the wheel.
Still have questions about winter weather safety? Visit jjc.edu/about-jjc/police-safety/winter-weather-info or email Executive Director of Communications and Marketing Kelly Rohder-Tonelli at krohder@jjc.edu.