A group of Joliet Junior College students studied abroad in Japan this summer at Ehime University in Matsuyama. Read their firsthand accounts below to learn about their experience.
Contributors to the blog include students Adam Davis, Alexa Ziegler, Edith Ruiz, George Pitsoulakis, Jimmy Bavirsha, Kari Lobash, Kelsey Anderson, Michael Gonzalez, Noah Dwyer, Sean O'Reilly and Natural Sciences Associate Professor Eva Murdoch.
Interested in Studying Abroad? Click here to see what opportunities JJC has to offer!
--------------------------------
May 14-15, 2017
We departed from O'Hare at 12:45 p.m. The plane ride was long but the staff was pleasant and friendly and the food was good. We arrived in Japan after a rough 12 to 13 hours. Going through customs was quick and easy. We had to take a bus and transferred to another airport where we had about an hour layover and then another one and a half hour flight to Matsuyama. We landed at 9 p.m. local time, and Miss Ruth Virgin, the International Coordinator, met us at the airport. She had arranged for a bus ride for us to be taken to the share house, where we would sleep for the next 2 weeks while in Matsuyama. Once we arrived at the share house, we were given a brief orientation on how the house is arranged and then we were assigned rooms and we headed off to bed.
--------------------------------
May 16, 2017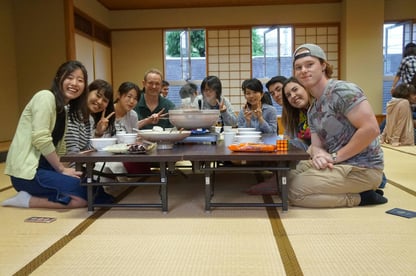 The next morning Miss Ruth and a handful of Japanese students picked us up and showed us how to get to campus, which was an easy seven-minute walk. On the way, we passed an elementary school and saw two children doing a cheer. We all started clapping when they finished and all the elementary students waved at us; they were so cute!
Our first day of class was mostly just overview of what we were going to do while we're in Matsuyama. Then we got paired off for the poster presentations and we spent time choosing our topics. Afterwards, we were matched with a Japanese student for lunch.
The cafeteria was busy and although there were pictures of all the food, everything was in Japanese and we had no idea what to order. Most of us decided to get the same thing as the Japanese students we were paired with. After lunch, we had an orientation where we learned how to properly dispose of trash in Japan (they have eight different classifications) and we also received our bikes and meal cards.
In the evening, we had a welcome party hosted by the ELS club. This was a traditional nabe dinner and the Japanese students cooked for us. About 30-40 of us sat on the floor around seven or eight tables. We had a great time.
--------------------------------
May 17, 2017
The next day began with class again. During the break, most of us walked around Ehime's campus; there's a lot of lush vegetation, many students on bikes (which can be hard to dodge) and everyone is dressed very nicely (most girls wear skirts or dresses and guys wear nice shirts and pants).
After lunch, we met for a tour of the Dogo Onsen and the surrounding area. It's about a 20-minute walk (as a big group) from campus. We also visited a Shinto shrine, which had spectacular architecture, and then we visited a nearby arcade (shopping center), which boasts a lot of orange-themed merchandise because oranges are the mascot and a staple of Matsuyama. In the evening we worked on homework and went to bed.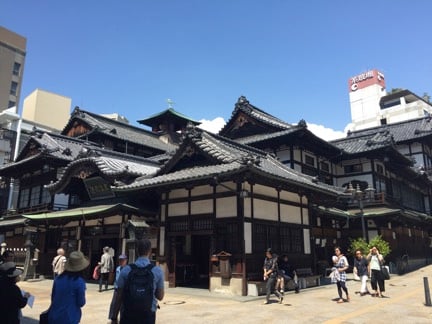 --------------------------------
May 18, 2017
Since we were up so early, we were able to wander in the Matsuyama downtown area before class and found a Starbucks. We made it back to Ehime just in time for class. After class ended, we had lunch again with our Japanese student mentors. In the afternoon, we met up at the front gate and went to tour The Matsuyama Castle with a fairly big group of Japanese students.
The castle was amazing and the view was breathtaking. Later in the evening, we met up to watch traditional Japanese music performed by a club at the university, and that was really cool and beautiful. After the performance, we got a chance to try playing the instruments and that was both fun and difficult. For dinner, some of us went to a nearby Indian restaurant and afterwards, we went back to the arcade over by the Dogo Onsen and walked around a bit.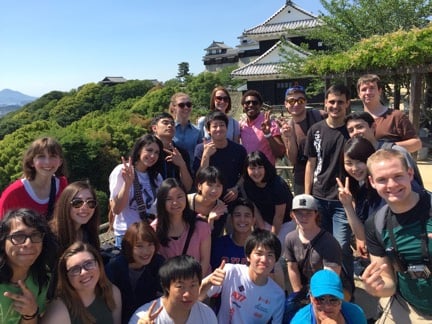 --------------------------------
May 19-21, 2017
After class on Friday, we had some free time to get ready for our home stays. At 5 p.m., our host families (for the weekend) picked us up and we all returned back on Sunday evening.
--------------------------------
May 22, 2017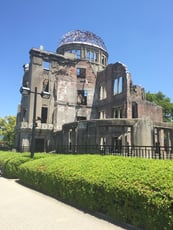 Visiting the Hiroshima Peace Museum was an incredibly humbling experience. Coming from an American historical point of view, one of the exhibits that stuck out to me was the initial electronic display at the beginning of the museum. It starts out by showing the area of the city of Hiroshima. After that, it shows the American bomber flying overhead and the bomb exploding. The damage was horrifying and the area it covered was larger than American history books could ever show.
This exhibit changed my perception of the world. As a whole, I was humbled almost to tears to see the immediate and after effects of this horrible WMD. It showed me how dangerous the world really is in regards to the nuclear threats across the world. Not only this, but it shows the need for us to come together on important issues.
After we toured the Hiroshima Peace Museum, we took a ferry to an island where there was deer running around everywhere. We visited the Miyajima shrine with the famous Torii gate in the water, and toured the shops and ocean.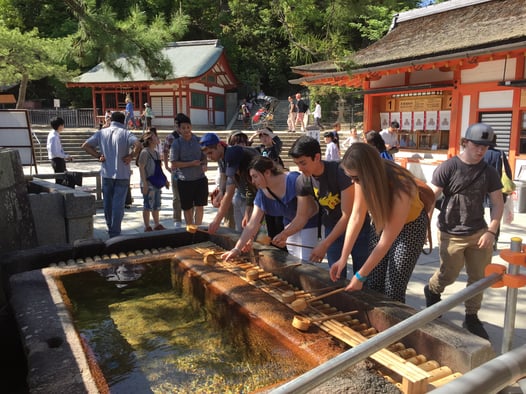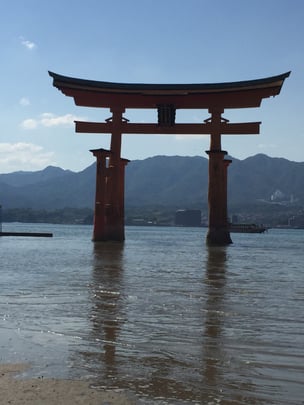 --------------------------------
May 23, 2017
After class and lunch, we took the trolley to a secluded garden underneath Matsuyama Castle. We enjoyed a Japanese tea ceremony. We got to make our own matcha tea. We also got to try two Japanese sweets. The tearoom was beautiful. The structure was nestled into the mountainside.
--------------------------------
May 24-26, 2017
For the rest of the week, we prepared for our poster presentation. We worked in groups of two to create a poster covering topics such as Japanese security, energy, health, the fishing industry and culture. There were around 300 Japanese students who attended the presentation and asked questions to interact with us.
It was a beautiful day and the four-hour poster presentation was held in the courtyard. Many faculty came to the session as well (some American and some Japanese).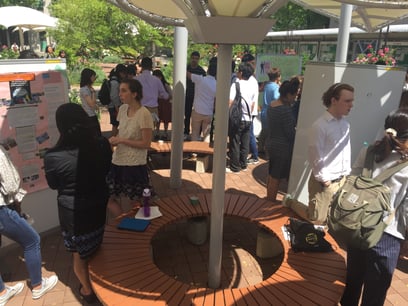 --------------------------------
May 27-28, 2017
On Saturday, some of us went on a two-hour train ride to Tamakatsu to visit one of the famous Japanese Gardens. The garden was beautiful and it was a very peaceful walk with views of lakes, a teahous, and different botanical areas.
The rest of the weekend we packed, spent time with our Japanese friends and said goodbye. Next, we'll be headed to the last segment of our trip, Kyoto and Tokyo.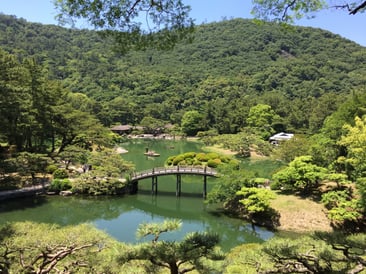 --------------------------------
May 29-30, 2017
On Monday, we took a three-hour bullet train ride to Kyoto. I don't think any of us had been on a train that was moving at 200mph before.
Once we got to Kyoto, we checked into our hotel and took the city train to a shrine famous for 10,000 Torii gates. We walked through the gates for two and a half hours. Along the way we were able to see the city of Kyoto from up high and appreciate its size and beauty. The next day we had a scheduled tour bus trip through Kyoto. The most notable sights were the Golden Pavilion and the Silver Pavilion. In the evening, some of us went to the Bamboo Forest and enjoyed a walk there.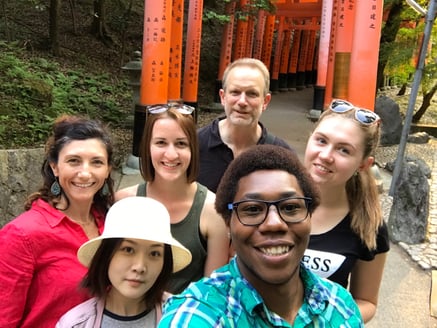 --------------------------------
May 31-June 1, 2017
The last few days we spent in Tokyo. To contrast with the cultural aspects of Matsuyama, Tokyo was at a completely different level. It was so different from the United States, but it was also so different from Matsuyama.
Taking the trains from each part of the city was so fun to experience. They were nothing like the trains in Chicago. People were packed in like sardines and it was almost complete silence the whole way. The city was also very crowded, but it was so amazing. The lights and the billboards were all over the streets, and even buses had animations on them. People were so expressive with their style and it was very different than how people dressed in Matsuyama. Tokyo did not have much traditional aspects in it, but it is definitely a place I would love to see again.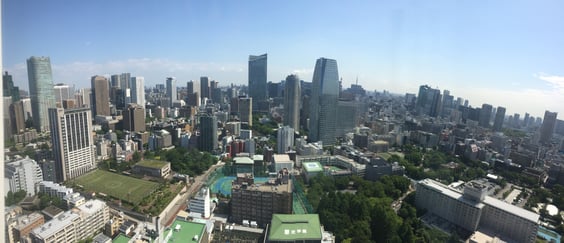 --------------------------------
Like this Article? Click below to: