A group of JJC students traveled to Costa Rica for their honors environmental biology class last semester. JJC Natural Sciences Professor Cheryl Heeneman and Honors Coordinator Al Golden traveled with them.
Take a look at the beautiful photos they took and read about their experiences below.

Alejandra Zavala
Local Farmers Market
In Spanish, a farmer's market is called una feria or la feria. Farmers and community members come not only to sell fresh produce, but prepared food like tamales, drinks like fresh squeezed juices, and even material items like toys, purses, knickknacks and flowers. The feria we attended was in one of Costa Rica's shopping centers in Monteverde. I stopped by a table with a woman selling organic spices and dry drink powders. I bought an ounce or two of a dry horchata mix (a traditional Hispanic drink made of rice or milk). I also stopped by a woman's set up who sold aprons, mirrors, jewelry and handmade bags. I bought one of her mirrors that I have hung up in my room today! Some of my classmates bought empanadas and tamales.
Costa Rica is well known for having large certified organic ferias and many prefer shopping at these markets rather than going go the grocery store. They know it will be good produce with little to no chemical or pesticide residue. A very healthy way to eat!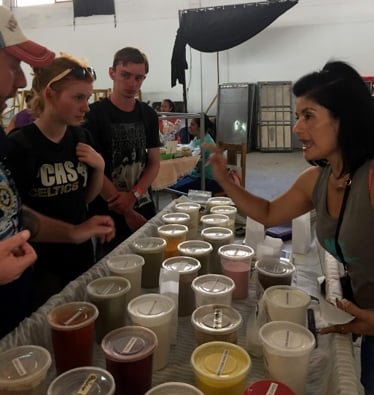 CASEM Local Women's Collective
CASEM stands for the "Cooperative of Artisans from Santa Elena, Monteverde." This is a non-profit organization dedicated to enhancing the livelihood of women by helping them become socially and economically independent. The cooperative is a single building with a store and restaurant. Walking in, I saw handmade bags, jewelry, wall décor, T-shirts, mugs, paintings, toys, wood carvings, cards, plush toys and more. I purchased gifts for my family as well as an embroidered T-shirt with a hummingbird etched in. All purchases made help support the local community and sustain the natural environment.
The history of CASEM is what attracted me most to this activity. CASEM was founded by eight women in 1982, largely by the help of one the best recognized women in the group, Patricia Jimenez. Jimenez was a driven, educated woman who saw the passion and opportunity for the women in her community to support themselves. They started out as a group of women that worked hard in secret because their husbands did not approve and yet still achieved and surpassed the judgement of others. This group has helped many women bring in their own revenue, raise their self-esteem and gain deep connections with their communities.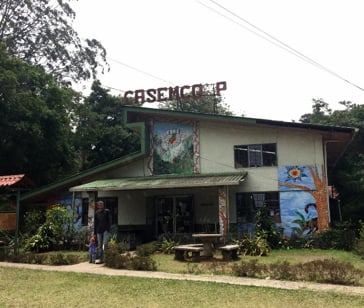 ---------------------------------
Brighid Fobert

Visit to La Gran Vista Eco-Agricultural Farm
One part of our trip included a visit to La Gran Vista Eco-Agricultural Farm. Most of the resources on the farm are sustainable and environmentally friendly. The farm produces organic vegetables, meat, milk, eggs and medicinal herbs. Water is provided through natural wells and terracing to help irrigation and prevent runoff. The farm uses microorganisms and worms as natural fertilizers. The work of La Gran Vista is very hard, requiring the constant devotion of Donald and his family, but also volunteers.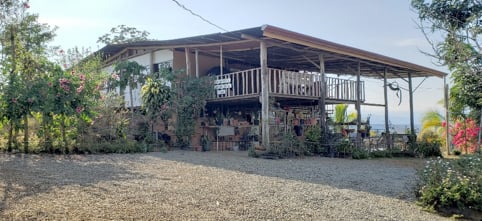 Reflection on the Trip
I had a great experience in Costa Rica. Almost every day we were learning something new without even realizing it. As I spoke with other students who went on the trip, I realized that this course and the study abroad experience has awakened the little eco-warrior in all of us. This experience has been not only one of the most informative ways to learn about real life matters, but it also touched me personally and challenged me to be better to others and my environment.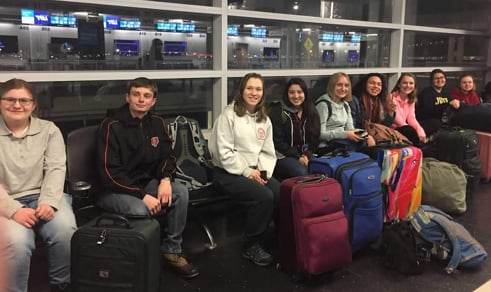 ---------------------------------
Cambrie Gallichio

The Cloud Forest School
The Cloud Forest School in Monteverde nurtures generations of ecologically-aware, academically well-rounded, bilingual individuals. Students gain the knowledge, values and skills needed to make environmentally and socially conscious decisions on a local, national and global scale. The school is separated by preschool and kindergarten; elementary school (grades 1-6); and high school (grades 7-11).
Kindergarten students have full-day classes every day with both English and Spanish teachers who rotate the role of lead teacher. Their lessons are play-based, exploratory and centered on cognitive development, social and emotional development, second language development and development of motor and artistic skills. In the elementary school, English speaking homeroom teachers give daily instruction in English literacy, math and science with integration across subjects. Spanish and social studies are taught in Spanish by Spanish-speaking teachers. The high school students receive six core academic subjects on a modified block schedule, as well as a wide variety of volunteer and teacher-taught electives.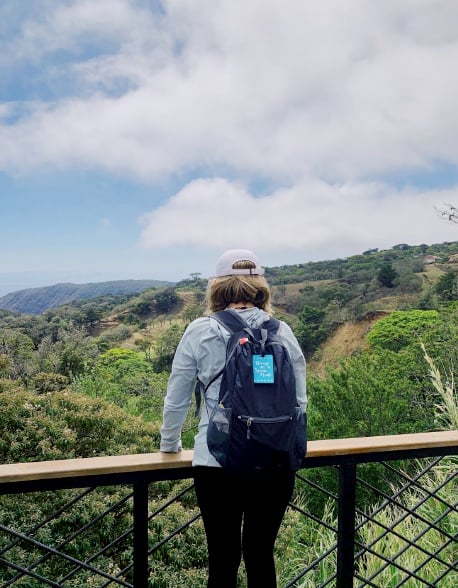 Reflection on the Trip
Before embarking on this journey, I knew the phrase pura vida, but I never had a feeling attached to it until I stepped foot in the beautiful, lush country of Costa Rica where this phrase was spoken in almost every conversation. I soon came to realize that pura vida isn't two simple words - it's an emotion and an attitude - but most importantly, it's a way of life. This phrase is an intrinsic part of the Costa Rican culture and clearly shows why this country is believed to be one the happiest countries in the world.
Being submerged in the culture for the short time we were there was eye opening. Going into this trip with unfamiliar people was a little terrifying, but after nine days I made great friends. We all got a little taste of every culture in Costa Rica, whether that be the fast-paced city life of San José, the agricultural life in Perez Zeledon, the beach and marine life of Puntarenas and Isla Tortuga, or the mountain life of Monteverde.
One of my favorite parts of the trip was volunteering at the La Gran Agro-Ecological Farm where the owner, Donald, taught us that the world is a sinking boat and we must help get the water out so we don't drown. He showed us his way of living, which allowed us to see life from another perspective. Being able to work on his farm in the hot sun and learn about how he grows his plants sustainably while reusing and salvaging things we wouldn't even think of was a once in a lifetime opportunity. Being able to take what I learned in biology class and relate it to Costa Rica was a great aspect to the trip.
Traveling to Costa Rica wasn't just a fun vacation with friends - it was a learning experience and I wouldn't have wanted it any other way. We didn't stay in one place too long and I enjoyed that because we wouldn't have seen as much culture and diversity. After this trip, I can say I live by pura vida and I will continue to believe that we can let all of the water out of the sinking boat we call our home and become more environmentally conscious.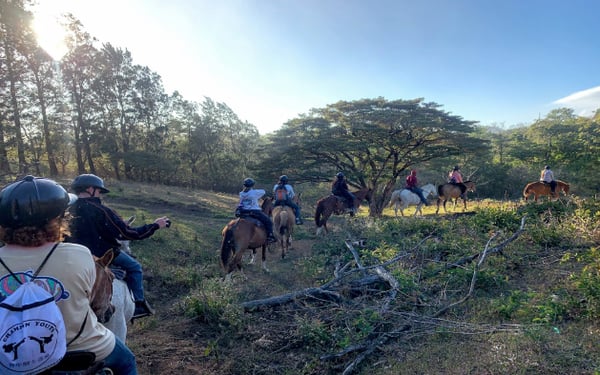 ---------------------------------
Jacob Barrett

Café Britt Coffee Plantation
The Café Britt Coffee Plantation is located in the heart of Costa Rica and lies just north of the capital, San José. Founded in 1985, it is the first gourmet coffee roaster in Costa Rica. Café Britt seeks to maintain a sense of sustainability and responsibility in their company. Part of the Costa Rican identity includes being eco-friendly and actively encouraging the reduction of their carbon footprint. Café Britt organically grows its coffee while using only what is necessary to cause even the slightest interference within their ecosystem.
We began our tour of the plantation with humor from our two guides. We learned that growing and producing coffee is not only a science, but it is also an art. One has to make sure that the soil is full of nutrients. These nutrients are best supplied if they are from other local plants. For example, if chocolate is growing nearby, it can add a sweeter taste to the coffee. We also learned how the coffee beans are still hand picked and roasted at different times and temperatures in order to produce different types of coffee. To make espresso, for example, the coffee is roasted longer than a light roast. The roasting of coffee is done with precision. If one even roasts coffee for a second or two longer or shorter, the entire taste could be changed.
Café Britt recognizes that climate change is both a real and present danger. If the climate changes, so does the growing methods and taste of the coffee. Coffee is a very particular plant that needs stable growing conditions in order to thrive. Our inability to address climate change will not just impact our fellow countrymen, but it will also impact people globally including coffee farmers in Costa Rica.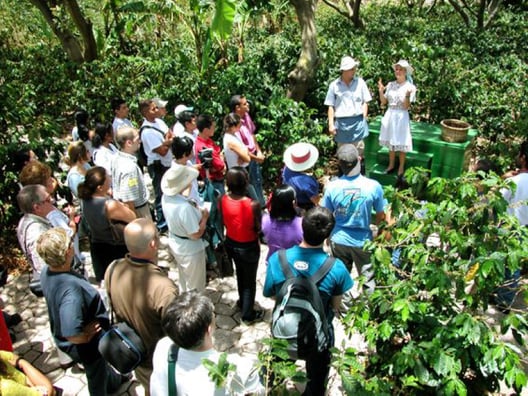 Isla Tortuga
Settled within the Gulf of Nicoya (on the Pacific side of Costa Rica), Isla Tortuga or "Turtle Island" has become renowned for both its natural beauty and tourism. As a tourist, one can snorkel and observe the beautiful coral reefs which nearly surround the island. When snorkeling, it's almost guaranteed to see wildlife including grunts, angel fish, seahorses, reptiles like turtles and even large fish such as white tip sharks, rays and eels. Located along the coral reef itself, one can gaze at various types of sponges and starfish which help protect the reef. While snorkeling off the coast of Isla Tortuga, our group was told of the vast wildlife that we would see but that we should remain a few feet away from the organisms as to not disturb them. Just as we began our dive, a starfish was spotted and we looked at it with wonder and awe. We also came across different schools of fish. The experience truly awakened me to new forms of life.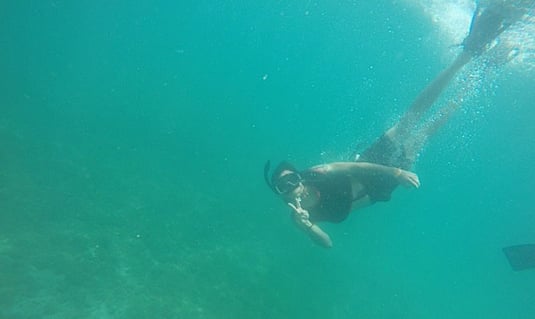 ---------------------------------
Marlo Avers

100% Aventura Zip-Lining Adventure
Costa Rica offers the longest zip line in central America - and it's a mile long. Wildlife that is commonly encountered here are birds, coati and a lot of fauna. Zip-lining in Costa Rica exceeded my expectations. The views that we got to see were incredible. I had no clue that we would get to see so much of the amazing mountainsides.
While there were areas that were cleared for some of the activities, most of them were integrated into the natural surroundings and seemed to have little effect on the forest. I think the best part of the experience was being up in the air and seeing all of the mountains and valleys. I don't think you get to experience or really appreciate them when you're just on the ground walking up a mountain.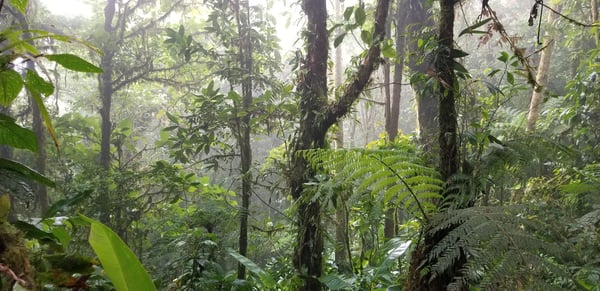 Cloud Forest Biological Reserve
Founded in 1972, the Cloud Forest Biological Reserve was the area's first private site for wildlife conservation. It was privately bought by a scientist who wanted to preserve the land. He sold the area to the Tropical Science Center who expanded it and created a private preserve for research and biological education. The TSC maintains the preserve today. Fifty percent of Costa Rica's flora and fauna exists here.
The Cloud Forest Biological Reserve was great. The hike was beautiful, we got to see huge trees, rare plants, the nests of humming birds, a multitude of fungi and hear and see many different types of birds. We learned about the ecosystem of a cloud forest, how they work, what is essential for the preservation of it and the rare wildlife it holds. I enjoyed going to the suspension bridge and being above the canopy again. When you're above the rest of it all, you can really appreciate the world around you. Learning about these beautiful animals really makes you so much more appreciative of the things that it takes for them to be here. It makes you want to implicate the things that are within your power to save them.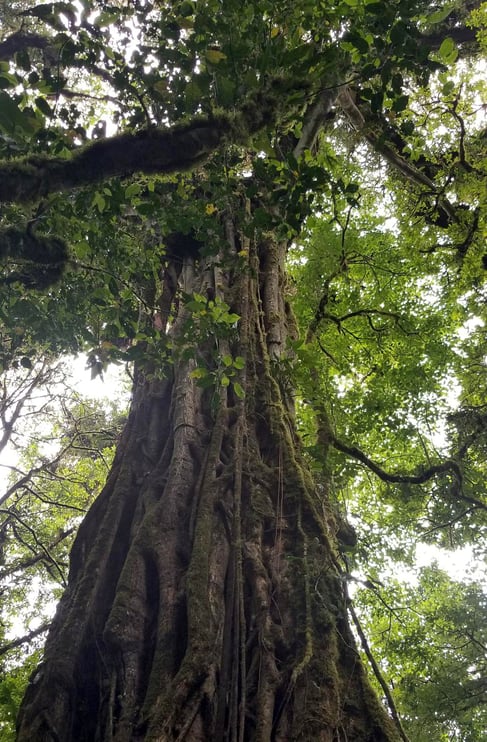 ---------------------------------
Sara Schelinski

Toucan Rescue Ranch
Created in 2004 by Leslie Howle and Jorge Murillo, the Toucan Rescue Ranch is a rehabilitation center for wild animals that is nothing short of incredible. Immediately, we were greeted by the singing of birds and the rustling of leaves as the residents scurried around their enclosures. Before we started our tour, our hearts melted for the baby sloths that crawled in a slow-moving heap beside us.
What is significant about TRR is that its sole purpose is not to display the animals like a zoo, but to rehabilitate them and return them to the wild. Whether confiscated due to illegal possession or found in critical condition on the side of the road, the residents of the ranch each have a name and a story. For me, this solidified the deep-rooted compassion of the TRR workers. Each species received tailored treatment, not only medically, but environmentally. This experience opened my eyes to the importance of rehabilitation release. As a country without zoos, Costa Rica can still teach others about wildlife by up close observance, but in a way that reduces the stress on their animals and provides a future beyond the enclosure. I learned that we must be speculative when it comes to possession of these exotic creatures. What seems like a peaceful interaction may be the product of high stress and maltreatment.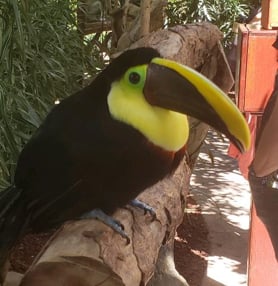 Night Hike of Santa Maria
Our night hike began at sunset, with the sky was painted in hues of warm colors that imitated the temperatures around us. A light mist covered the foliage as we began our trek with news of a sloth sighting.

Then we headed into the woods. We were greeted by what appeared to be two floating yellow specks. What we were looking at was a click beetle, similar to a firefly, but different in the sense that they glow constantly. Slightly after, we came across two scorpions, one in which had her babies riding on her back. We smelled flowers that were only odoriferous at night and witnessed thousands of ants carrying leaf fragments to the queen of the colony. It was unlike anything I had done before in my life. Reading about these creatures and seeing pictures does not compare to being up close and personal. The fascination and appreciation I have for the environment and all its inhabitants has grown and I cannot wait to take my experience and expand upon it in my future studies.
---------------------------------
Wynter Meldrum

La Paz Waterfall Gardens
The La Paz Waterfall Gardens is a truly exotic place. They had naturalistic exhibits with fun, lively animals. Their animals seemed happy to be there and showed no sign of stress. They had a large exhibit where birds flew freely and a large butterfly house. I was surprised by just how natural everything was, even in the exhibits.
I had an amazing time here as I saw animals I would never see in the wild where I live. It is always fascinating to see animals up close and personal instead of just on a computer screen. The La Paz Waterfall Gardens is a wonderful place to visit for personal fulfillment, enjoyment of nature and for studying for your ecology class.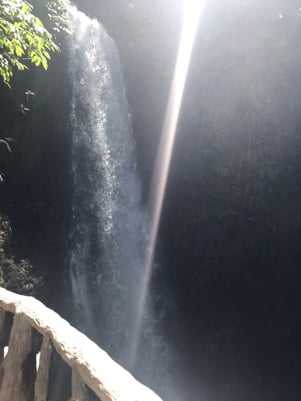 Toucan Ranch
While I was at the Toucan Ranch, I got to see recovering animals (such as birds and sloths) that had been rescued in the wild or taken from illegal pet trade. They went so far as to use stem cells to repair a sloth's face. That was impressive and shocking, especially since in America many people are against stem cell research. To them, it seemed logical to help save the sloth's life.
The Toucan Ranch is saving animals and helping to keep the ecosystem around them stable. They even teach people when to call animal control, when to step in when they see an animal in need, and even letting people know which animals are not allowed to be pets. This allows for animals to recover and be re-released as if no human impact had taken place.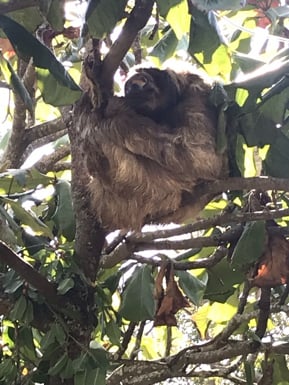 ---------------------------------
Xavier Colon

La Isla Tortuga, Safe Haven of Play
La Isla Tortuga is an island located in the Gulf of Nicoya that looks like a resting turtle. It is a place where recreation, play and aventura run free. From swimming in coral reefs to white beach sand, volleyball, glass bottom boats, kayaking, banana boat flipping around the Gulf's course and hiking, it is truly a destination for play. Throughout the excursion, we spotted Humpback whales, manta rays, fish, macaws, spider monkeys and one wild peacock.
I witnessed a man that works for La Calypso Cruises who takes this adventure every day. He is filled with joy, excitement, youthfulness and journey. As he hopped onto a banana boat, he yelled, "I am literally working right now!" before floating toward the surrounding mountainous islands. His ability to connect with others in a genuine way proved the effect that this nature has on us as a species.
The recreational use of the island is limited, but preservative. You can study the shift in sea levels by the tidal pools and the aging rock terrain. Upon observing the coral reefs, they seemed like they were beginning to dry out due to changes in atmospheric temperatures, but life is still sufficient for the species that live in it. This experience served as a study for marine life around the Pacific, as well as an appreciative journey for how fun and playful life should be lived.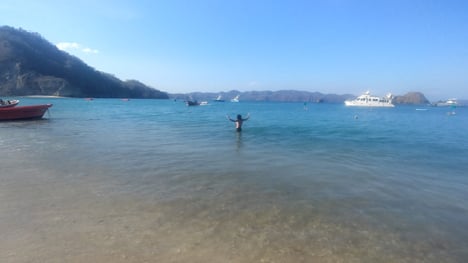 La Gran Vista Agroecological Farm
On La Gran Vista Agroecological Farm, the livestock have personality and are treated with their own individualism. The conditions of the chicken coop were clean. The rooster and hen roamed freely during the day. It was a place of freedom, not only for the people living on the premises of the farm, but also for the animals. Dogs roamed 12 acres every day, cows gazed at their pleasure, horses followed, chickens and roosters chased one another, birds flew onto plants, lizards climbed wet walls to moisturize their flesh, bats co-habituated. Life lived side by side, not interfering with one another, only recognizing each other's existence. Too many times in American culture, we pass life by without a smile or appreciation. It is important to be grateful for life in order to make a difference.
After orientation/class and a tour of the premises, our group was given the opportunity to contribute in the making of organic fertilizer which is used in soil for plants on the farm. We also participated in work for the growing butterfly garden. We learned methods in the protection and conservation of soil and water resources, techniques of cultivating gardens, important life lessons and so much more. Experiencing this first hand, it felt like a spiritual connection. My family in Puerto Rico and my ancestors lived this same agricultural lifestyle, from building a house on a mountain in the the rainforest to cultivating the land and living with nature.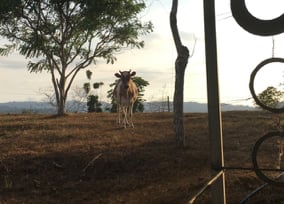 ***
Like this post? Check out: