Anticipating an adventure, ten Joliet Junior College students eagerly boarded a plane for a study abroad trip to Matsuyama, Japan, earlier this summer. From touring shrines and castles to meeting new friends, JJC students immersed themselves in the culture and earned college credits by taking classes taught by JJC professor Nataliya Marchenko through Ehime University in Matsuyama.
Read a collaborative blog below to see what the students experienced during their first ten days in Matsuyama, Japan.
--------------------------------


Day 1 (May 15, 2016) – Arriving in Matsuyama
After a tiring 12-hour flight, we arrived in Tokyo on Sunday, May 15. The initial immersion into Japanese culture at the airport represented only a glimpse of what was to come the next day after the group was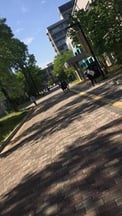 well rested.
From Tokyo, we made our way to Matsuyama. Compared to Joliet, Matsuyama is very compact and efficient. The city consists of mostly small apartments, narrow roads, and a majority of travelers who use bicycles rather than cars.
Before the trip, we were told that there might not be air conditioning or screens on the windows in our rooms, so we were a little nervous about that. Once we got there, we found out that there was air conditioning! We were able to figure out how it worked, and most of us had a good night's rest.
--------------------------------
Day 2 (May 16, 2016) – Our First Cultural Experience
We were surprised to find out that one of the most popular convenience stores here in Matsuyama, as well as in most of Japan, is 7-11. We went there to get breakfast, and then we walked to Ehime University, where we'd be taking our classes. There, we were given an overview of life at the university, and the rules we'd have to follow.
One rule was that we'd have to be extra careful when recycling. In the U.S., we have one universal recycle bin, but in Japan they have more than five bins: one for paper and cardboard, one for plastic bottles, one for plastic wrappers, and one for glass and cans.
We also learned that in general, the Japanese are shy and dislike confrontation relative to Americans, but with this shyness and lack of confrontation emerges a group of people who are very respectful and excellent hosts for any guest.
We headed to the cafeteria for lunch. As we were waiting in line, our food (such as ramen and curry) was prepared for us. The employees didn't speak English, but they did have pictures we could point to.
Then a small group of us went on a tour of the university, led by one of the Ehime students, Keigo, or Kei for short. Kei was very nice and abnormally outgoing compared to his peers.
Monday night we participated in a Japanese tradition called a Nabe Party. Six of us, half American, half Japanese, sat around a table raised roughly one foot above the ground. Men usually sat cross legged while women sat on their knees to free up space around the table. We talked and spoke about each other's culture as we ate noodles with chicken and vegetables.
--------------------------------
Day 4 (May 17, 2016) – Exploring Matsuyama
After class in the morning, we took a tour around the city to see the sights and traditional landmarks. We went to Dogo, which is a shopping district but is mostly known for the Matsuyama shrine and Onsen (hot spring).
The Matsuyama Shrine is a historic landmark in Japan and a part of the Shinto religion. It was amazing to see a building so traditional and intact after centuries of wear.
After walking up the 130+ stairs to the shrine's entrance, we took part in a cleansing ritual. We took shrine water and poured it on each hand, took a sip and spit it out, then with the remaining water we had to tip the cup, but make sure not to get the water back into the water source.
When we got inside, we got to pray to the Shinto God and then continued with the tour. One interesting thing we learned is that there is a separate, portable shrine (weighing one ton) that travels across the country. People gather to help push the shrine back up the stairs after it's visited the cities.
When the tours were over, we decided to explore the shopping area next to the hot spring. The group tried some ice cream with blueberry syrup and it was delicious!
We also had the opportunity to watch the kendo club (a Japanese martial art that includes fencing). It was really cool because we didn't expect it to be so intense. After that, one of our Japanese friends took a couple of us downtown and we went to karaoke.
--------------------------------
Day 5 (May 18, 2016) – Trying New Things
On Wednesday, we got to try on yukatas, which are traditional Japanese dressing gowns that look like robes. We also learned a dancing game and went on a city bike ride.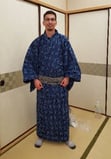 Afterwards, some of us went to the Onsen public bath. People typically go there to shower and relax in a pool of water, roughly 110 degrees Fahrenheit. The experience was uncomfortable at first, but after the initial nervousness wore off, it was relaxing and it became a meaningful cultural experience. It was cool to see everyone get comfortable and joke around after we got used to it.
--------------------------------
Day 6 (May 19, 2016) – Visiting Matsuyama Castle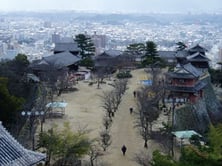 The next day our cultural activity was a tour of the historic Matsuyama castle. The castle was built centuries ago and this was the first time many of us had ever seen a castle in real life. Some of us went on a chair lift next the castle. It was a pretty nice overview of the city once you got to the top.
The past two days we have also met and grown closer to multiple Japanese students. While they were somewhat timid at first, we have grown to know more about each other and respect each other's differences.
--------------------------------
Day 7 (May 20, 2016) – Home Stay
NOTE: Each JJC student (if desired) spent their first weekend abroad with a different Japanese host family. The following entry is one student's account of this experience.
I was a little worried at first about my home stay because my host family hardly spoke English. But once I got there, I realized I didn't mind – it was kind of like one big game of charades. When I met my host family, I handed them gifts: some cookies, a picture frame, a magnet, and candy. They had a 4-year-old so I thought the candy would be acceptable, but they stashed it away from him.
The mother, Yukiko, made curry for dinner and I really enjoyed it. The father taught me how to play a card game that went like this: basically, the cards are spread out in a circle and people take turns picking a random card and putting it into the middle. If you pick the same suit as the previous card, then you take the pile and the person with the most cards loses. After that game, we played the Memory Card game, Old Maid, and Life.
--------------------------------
Day 8 (May 21, 2016) - Home Stay
NOTE: Each JJC student (if desired) spent their first weekend abroad with a different Japanese host family. The following entry is one student's account of this experience.

I was expecting a knock on my door for breakfast, but there was none. I made sure to peek out before leaving my room.
After breakfast, we headed to the store to get lunch for later. During our outing, I also took part in the Hippo club. I don't know too many details, but basically the Hippo club is known for its teaching activities, including teaching others how to speak different languages.
They wanted me to read the English version of a story, but it was difficult because I had to repeat what was on a speaker. I don't know if I did that good of a job because the speaker was talking too fast.
Then we drove 30 minutes away to a middle school and high school that had its own aquarium. That was pretty cool! We did a little sightseeing around town and tried this blue ice cream. I told my host family it tasted like cotton candy, but now that I think back, it was probably raspberry.
Afterwards, we went to Yukiko's father's house for a Japanese-style barbeque. The difference between a Japanese barbeque and one in the United States, is that instead of one person on the grill, everyone is around the grill.
The reason for the party was to celebrate multiple family members' birthdays, so there were also two homemade cakes. After that, we went to an Onsen. This one was bigger than the one we went to earlier in the week. It had a sauna and an outside bath.
--------------------------------
Day 9 (May 22, 2016) - Home Stay
NOTE: Each JJC student (if desired) spent their first weekend abroad with a different Japanese host family. The following entry is one student's account of this experience.
In the morning I was given the New Testament, with English/Japanese words. We went to church, which took place at Yukiko's father's house. I'm not religious, but I was fine with attending the ceremony. It was cool watching everyone else participate.
My host father tried Googling translations so I could follow along, but he couldn't find the English version. After church was over, the priest (who traveled to America with Yukiko's father in the '70s) tried to convert me to Christianity, but I told him I wasn't interested.
Afterwards, we made our own sushi which was pretty cool, since it was my first time making homemade sushi.
Overall, this home stay provided me with a lot of firsts. I'm glad I decided to try so many new things this weekend.
--------------------------------
Day 10 (May 24, 2016) - Visiting Hiroshima
On Monday, we traveled by bus to the Hiroshima Peace Memorial Museum. On our way to the museum, we saw a building known as the "A-bomb Dome" because it was the only building that was left standing right after the atomic bomb burst in 1945.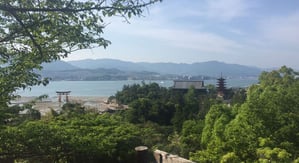 We were all amazed and saddened by the experience at the museum. There were many gruesome pictures and stories that made us truly realize how horrific nuclear warfare is.
Before our visit, many of us had pride in America and that we won a war through nuclear warfare. But after seeing the stories and events explained through the museum, we all felt great sadness over how this weapon was used and the effects it had on so many innocent people. I believe seeing the museum has helped us grow as people - just like this entire study abroad experience.
--------------------------------
Like this Article? Click below to: