A group of JJC students' lives were forever changed this past summer, when they boarded a plane and started a study abroad experience in Morocco. The group of 11 created memories that would last a lifetime - from making friends with their host families, to visiting historical sites and immersing themselves in the culture as if they were Moroccan citizens. JJC English and World Languages Professor Cris Trillo, who grew up in both Spain and Morocco, traveled with them.
Travel to Morocco through the words (and video) of three of these students, Devin Wood, Elizabeth McHugh and Kevin Cabrera.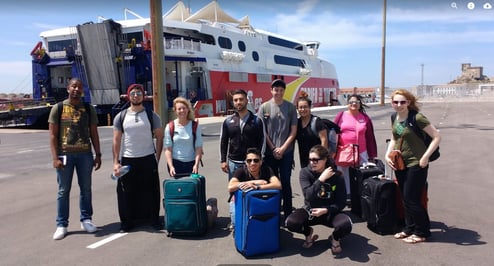 Before they headed to Morocco, the group spent a day sightseeing in Marbella, Spain. They are pictured here before their ferry boat ride in Tarifa, the southern port of Spain.

Day 1
Monday, May 16, 2016
KEVIN:
Once we arrived in Tangier, we took a small mini-van to the American School of Tangier. Then we got to meet our guest families; we'd be staying with them for two weeks. After meeting the family, we traveled back to the school where we all went to the center of town. We walked all day and saw many shops all around the medina. We went to a nearby restaurant called Diadai. When it got dark, we went our different ways home for our first night in Tangier with our families.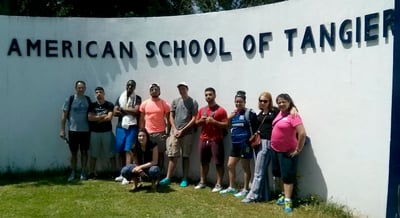 JJC students pose in front of the American School of Tangier

ELIZABETH:
The dad in our family (also one of the teachers at the American school) came to pick us up. He drove us around town a little before we stopped home and he showed us his daughters' schools. The rest of the family includes: the mom, Anisa; the oldest daughter Samia, 24; the middle daughter Shamae, 18; and the youngest daughter Aya, 12. Their house is extremely ornate and all the walls are tiled. The house also contains a beautiful prayer room. The room my roommate and I shared had bunk beds, a dresser and a night stand. They also had a very nice open air patio.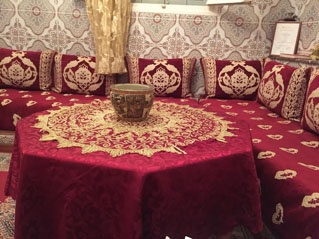 Prayer room

DEVIN:
In my host family, there's Habib, the father; Ismail, the eldest brother, who speaks fluent Spanish; Saad, the middle brother who is 21, who speaks very fluent English and is studying economics; another brother, Yazid; and the youngest, Anwar. I haven't gotten the mother's name yet. For dinner, the family gave us harira, which was like a hearty soup. It was delicious. There were also a few types of bread, and more crepes with honey.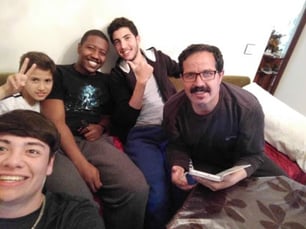 JJC student Devin Wood and his host famiy in Morocco
---------------------------------
Day 2
Tuesday, May 17, 2016

DEVIN:
Habib walked with us to the school to make sure that we could find our way there. Class consisted of an introduction to the course and a discussion on the readings we had the previous night. For lunch, I had lasagna (surprisingly good). As I'm typing, the mother of my host family gave me the equivalent of a cinnamon roll. I can't tell what it's covered in, but it is ALSO delicious. I haven't tasted anything on this trip that I haven't liked.
ELIZABETH:
Today we took a small tour around Tangier. This included a tour of the Soq/Socco or the market. It is filled with different vendors and there is one for everything: household items, fruit, olives, metalwear, clothing, electronics, and more.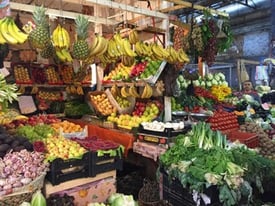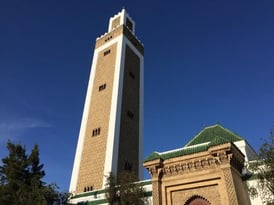 Fruit stand (first photo) and a mosque in Tangier (second photo)
KEVIN:
At one point at the medina, we looked out and saw the docks by the beach. When we were done sightseeing, we walked through the center of town back to the school and from there back home. For dinner that night we had beef or chicken tagine with vegetables, plus sides of salads and fruit for dessert.
---------------------------------
Day 3
Wednesday, May 18, 2016
DEVIN:
Today we met Nabil (he's awesome), who is the history teacher for the American School of Tangier. He took us to the more historical parts of the city including the Kasbah, which was where kings and the upper class lived. We also walked through the Old Medina where the common people lived in older times. We saw the tomb of Ibn Batouta, who was an explorer of the world akin to the likes of Marco Polo. Nabil then took us to a part of the medina that used to house the large number of Jews who lived in Morocco before the creation of Israel. He knew someone inside of the oldest synagogue in the city who let us see it even though it was closed. It was absolutely beautiful. He says that it is no longer used for normal services, but is up kept by the Jewish community of Morocco.
Nabil said Moroccans are saddened by the animosity between Jews and Muslims in the Middle East because in Morocco, neither would be who they are without the other. After ten miles of walking through the streets, we eventually settled in at a restaurant called Casa España and watched soccer as a group. For dinner, the host family made Tagin, which had fish and a lot of spices.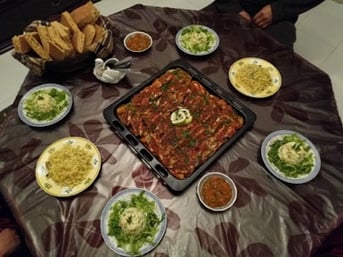 Family meal
ELIZABETH:
Today we got another tour of Tangier, except this one was much longer. We were led by a man named Nabil who is friends with Professor Trillo. He took us through the modern and antiquated parts of town. We walked through many alleys and saw how the people used to live and even the separation of the rich and the poor.
Since Tangier sits on the sea, it used to be constantly invaded. There are high sea walls (still standing today) that were used to protect the city. There were also large cannons lining those walls. We also passed by the home of a very famous world traveler, Ibn Battouta. After exploring, we visited a beautiful and calm tea café. After that we toured more of the city and even visited an old, Jewish synagogue and learned about the strong cultural impact Jews and Judaism had on Moroccan culture.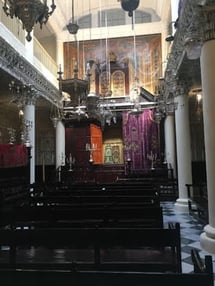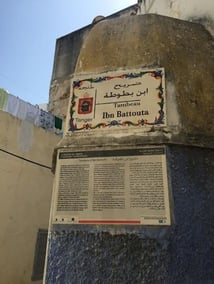 Jewish synagogue (first photo) and home of world traveler, Ibn Battouta (second photo)
KEVIN:
We learned that Ibn Batouta traveled to parts of Asia and Africa. He remains in Tangier but not many people know about him nor know where he's buried. For lunch we went to a small home and had tea while chatting with each other talking about how wonderful Morocco as a country is really. After lunch the tour guide took us into a Jewish church where we got the chance to see a Jewish temple. Once we got out of the medina we headed to the Mendoubia gardens where we saw many tomb heads of Americans like doctors and teachers. We made our way back to our homes in which dinner was waiting for us. This night we had some type of fish with red seasoning and two small sides of salad and a type of pasta.
---------------------------------
Day 4
Thursday, May 19, 2016
ELIZABETH:
After class I shopped around at the stores in Tangier. The stores were more of the "western" style as opposed to traditional Moroccan style wear. Not knowing either Arabic or French very well posed a great challenge when trying to do anything. I couldn't haggle efficiently because I don't know my numbers well enough. It was also difficult to ask for different sizes and colors. One thing I noticed was that I was treated very differently once I covered my hair. This was a new experience for me because I have never done a hijab before. The atmosphere around me changed once I put it on - people spoke to me first in Arabic instead of French or English. My house mom even told me I looked so beautiful with it on. Covering my hair made it much easier to fit in.
DEVIN:
After class we hung out and played basketball. We swam and ate at a sandwich shop. Every day I get a little more relaxed here. And it's amazing how cheap everything is. The very first day, 11 people had a meal together with a LOT of food and it only cost the group 560 dirham. To put it in context, 10 dirham is $1. Eleven people had a full meal for a little more than $56. I've spent a total of $55 here in Tangier since Monday afternoon.
After basketball and the pool, we all made our way to a rooftop café and had freshly squeezed juice with a view…That view though…absolutely amazing.
I also want to say how amazing my host family is - the meals and the conversation are great.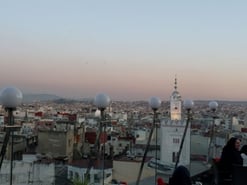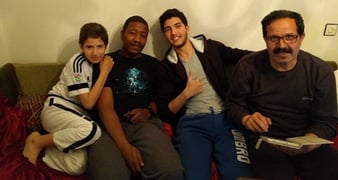 View from rooftop cafe (first photo) and Devin, pictured with his host family (second photo)
---------------------------------
Day 5
Friday, May 20, 2016
ELIZABETH:
After class, I went out with the same group of people and explored Tangier again. This time we walked to the beach. It was slightly awkward for the women because the beach in Tangier is filled with all men and boys - barely any women were there and there weren't many women swimming, either. I was happy I wore very modest clothing again and covered my hair.
Also, Friday in Morocco is like Sunday in the U.S. It is essentially the holy day. A lot of businesses close all day or for a period of time during the day. The call to prayer remains the same, five times a day; but, people are encouraged to actually go to the mosque on this day. Friday also means Couscous Day. Generally, the women of the house will work all day to make a large dish of couscous which is a very famous Moroccan dish that is meant to be eaten on special occasions. I personally didn't like it very much.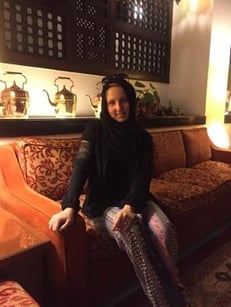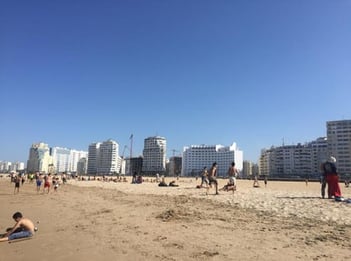 Elizabeth pictured wearing a hijab (first photo) and the beach (second photo)
---------------------------------
Day 6
Saturday, May 21, 2016
ELIZABETH:
Today, the men and women of our group separated for the day (Note: This made it feel almost as if we were somewhat traditional Moroccan people). The group and myself went to what is called the hammam, which is a type of spa. We were also joined by one of the house moms. The hammam was amazing and I recommend everyone try it. There are ladies in there that scrub the dead skin off of you, massage you, and wash your hair. Then afterwards we got our hair done.
After that experience, the house mom invited the whole group over, and there was someone there to do henna for us. Moroccans are extremely warm, inviting people and the house we went to provided us with lunch. Later that night there was a soccer game on TV. We went to the Spanish club that Professor Trillo went to often when he lived in Tangier. It was a change of pace compared to the rest of the city because here they had alcohol and pork, which are "haram," or bad to Muslims.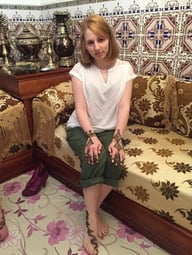 Elizabeth shows off her henna tattoos.
KEVIN:
On Saturday, we went to the coast/beach of Tangier. We just walked all the way straight and took some pictures of the scenery there. When lunchtime came around we had another dish - this time tagine with beef and green beans on top with both sides of salad and pasta.
---------------------------------
Day 7
Sunday, May 22, 2016

KEVIN:
Sunday was a free day, so a few students and I went to the school and played soccer. After that, we all went to the medina to shop. On Monday we plan to go to Assilah to fish and swim.
---------------------------------
Day 8
Monday, May 23, 2016

ELIZABETH:
The American school owns a nice, private beach that is a few miles from the school. The makeup of the beach was very interesting because it was more like a desert beach. There were desert plants and rocky sand, yet it was on the water. There was no swimming that day because it was so windy. I explored the area around and climbed the rocks and almost made it up to the backside of a waterfall. The hike back from the beach to the American school was very strenuous for me.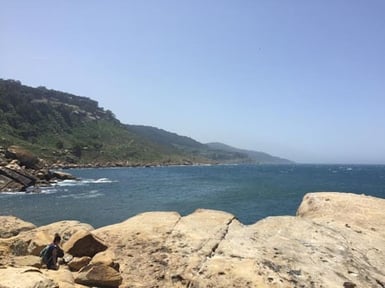 Private beach
---------------------------------
Day 9
Tuesday, May 24, 2016
DEVIN:
Today we toured the beautifully blue city of Chefchaouen. The entire city is built into the side of a mountain. There are natural springs that flow and allow for a steady source of clean, cold drinking and washing water. Our first experience was seeing a woman washing a large rug in the water. We got our pictures taken with parrots for 10 dirhams (the equivalent of $1), and the man with the birds was nice enough to allow some of the girls to take pictures with peacocks for free. I bought a Berber jewelry box that opens by twisting the top, revealing four separate compartments. I asked if he could lower the price, and was told that in Morocco, when dealing with a Berber man specifically, he would almost be offended if I had not tried to haggle. I also bought a handmade Berber rug.
ELIZABETH:
I woke up extremely sick. I didn't know if it was from something I ate or what. I missed the trip going to Chefchaouen. I could not eat at all. The whole day I laid on the couch and slept on and off. Luckily though, my mom, Anisa, was so helpful. She knew exactly what to do and how to take care of me. She made me white rice and chamomile tea.
---------------------------------
Day 10
Wednesday, May 25, 2016

ELIZABETH:
I am feeling better today. I got to go to the American Legation with the group. The American Legation is the only U.S. historic site that is located outside of the U.S. It used to be an embassy, but then the building became too small and outdated. There were paintings, letters, and pictures (including pictures of former kings with former presidents and even Obama with King Mohammad). Today, the American Legation still serves an important role in maintaining relations between the U.S. and Morocco. At the end of the tour, they took us all the way up to the rooftop of the building and we got a great view of the city around us.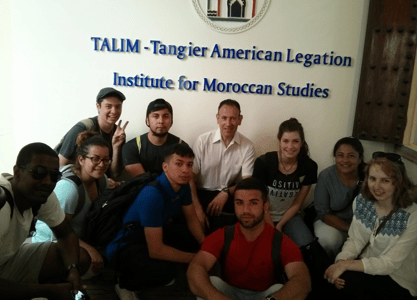 Tangier American Legation
KEVIN:
We had to be very early to get a tour of the Tangier American Legation Institute of Moroccan Studies. We saw many Paul Bowles novels and learned a lot about him and how he changed/influenced Morocco as a country. The American Legation also supports education - they have a class for women who need work on reading and writing in Arabic, French and English. On this same day most of us went on a boat ride where we got the chance to swim (but I didn't choose to swim).
---------------------------------
Day 11
Thursday, May 26, 2016
ELIZABETH:
No class today. Instead, we went out on an excursion to different sites that were not too far from Tangier. On our way there we made a stop to ride some camels. That was definitely a cool experience. Next we stopped at the Hercules caves and Spartel Cape. The Hercules cave is significant because it is where people claim that Hercules himself separated the two continents. The Hercules caves are definitely a tourist attraction because there were a lot of groups from all around the world. The view from inside the cave is breathtaking. Through the slit in the cave, the waves come through from the sea and there is a perfect view of where the sea meets the sky.
Lastly, we went to the town of Asilah. Asilah is about 19 miles south of Tangier on the coast. It consists of winding, narrow streets and has a very historic feel to it. It is a town that looks like it could be in Greece, yet it also has a Spanish feel; essentially, its Mediterranean. The small town has almost all white buildings but boasts some impressive art. There are brightly painted doors and windows all throughout the town, but the walls also have paintings and murals all over them.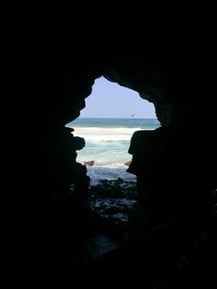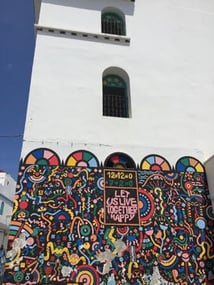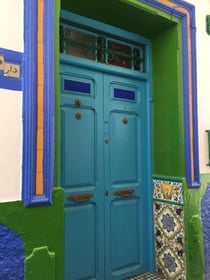 The Hercules cave (first photo), a mural on a building in Asilah (second photo), and a colorful door in Asilah (third photo)
DEVIN:
I've been slacking on my journal updates! We've been all over and I've learned a lot. Morocco was apparently the first nation to recognize America as its own independent country and has had a relationship with the U.S. ever since. This country has been a magnet for people who enjoy its customs and cultures, its food and pricing, its beautiful landscapes, and of course, its music.
A few days ago, we took a boat trip along the beach and swam in the ocean as a group. We lucked out that the seas were relatively calm, but even so, it was a rockier ride than I would have expected. We also visited the American school's property on a beach and fished. Not a single fish was caught that day, but we did see some of the most beautiful landscapes that I could have imagined.
If there is one thing I have enjoyed the most on this trip, it would be how much my host family has welcomed me. The food, the conversation (even with a language barrier), and the time spent together has been an amazing part of this experience for me. I couldn't have asked for a better group of people to spend my time with. Fun fact: They are absolutely obsessed with the face swap feature on snapchat. A worthy digression.
---------------------------------
Day 12
Friday, May 27, 2016

ELIZABETH:
Today we went to the hammam spa again. I later found out that the hammam we went to today was a real Moroccan Hamman and the other one was Turkish style. The difference is that the Moroccan hammam does not have a time limit and it is just a big open room without any fancy tables. Tourists are usually not seen there.
Afterwards, we packed for the week ahead and got all set to leave our families the next day. Later that night our family was going to go to the graduation ceremony at the American school because our house dad is a teacher there. My roommate Justine and I ended up going as well and it was a very fancy, well organized ceremony.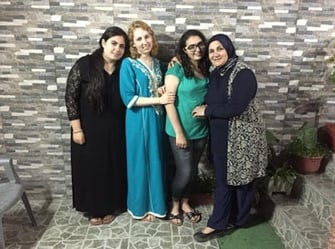 Elizabeth is pictured with a few members of her host family
KEVIN:
This day was our last day with the families because we're going to visit Marrakech, Fes, and Rabat. One day I hope to return to Tangier because it was a wonderful experience.
---------------------------------
Day 13
Saturday, May 28, 2016
ELIZABETH:
Located about three hours outside of Tangier is Rabat, the capital of Morocco. It was our first stop outside of Tangier. Here we saw the Hassan tower and the Mausoleum of Mohammed V. The site is surrounded by large, fortress style walls that look very antiquated and historic. There are also guardsmen on horses standing beside the entrance that are really just there for show. Once you enter, it is a large open air area with the mausoleum on one side and the tower on the other. In between the two are rows of pillars that appear to be incomplete. In fact, the Hassan tower is incomplete itself. Construction of the mosque stopped in 1199 after the death of Sultan Yacub al-Mansour, the man that wanted it built.
On the other side of the space sits the Mausoleum of Mohammed V, who is the grandfather of the current king, Mohammed VI. It is a beautiful, very ornate mausoleum with the tomb of Mohammed V sitting right in the center of the lower level. Visitors are allowed to come in and view all around from a balcony style second floor. Off to the corners of the lower floor, are the tombs of the sons of Mohammed V, King Hassan II and Prince Abdallah.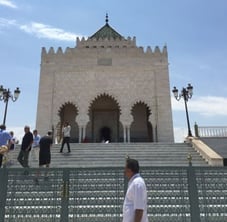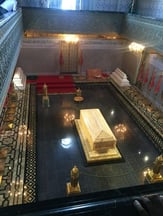 Hassan tower (first photo), and mausoleum (second photo).
---------------------------------
Day 14 & 15
Sunday, May 28, 2016
Monday, May 29, 2016
ELIZABETH:
Six and a half hours southwest of Tangier is the fourth largest city in Morocco, Marrakech. This city was made famous through pop culture. While Tangier is an old city where everything is close together, Marrakech is much more spread out. Marrakech is also much more of a tourist town. There were plenty of Americans there in addition to Europeans.
The first thing we did was visit the Djemaa el-fna. The Djemaa el-fna is the large, open air market that is the largest out of all of the Soqs. It is crowded with vendors, performers, and shoppers. The market is similar to that of Tangier's in a sense that all of the booths are selling something specific and they are packed. This includes meats, pottery, spices, olives, dates, clothing, and leather goods. Besides vendors, there are also many performers: snake charmers, henna artists, dancers, and people with monkeys that you can take pictures with.
On our second day in Marrakech, we went to another landmark: the Majorelle Gardens / Yves St Laurent memorial / Berber Museum. The Majorelle Gardens contain hundreds of plant species from desert to tropical plants. Inside the garden contains a small stone statuette with a plaque dedicated to Yves St Laurent; a designer that spent a lot of time in Morocco. Lastly, there was a Berber museum where cameras were not allowed. I learned all about the influence of Berber culture on Morocco and more specifically what they wore and how impressive their jewelry was. The last historic place we visited was the Ben Youssef Madrasa. The Ben Youssef Madrasa was built in the 14th century and is one of the oldest universities in the world. It is an extremely intricate building with wood and stone carvings and tiled art.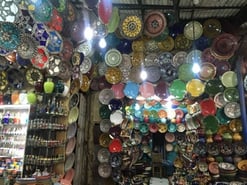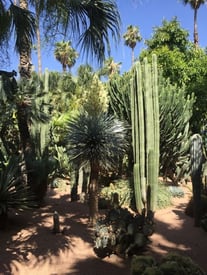 A ceramics vendor (first photo) and the Majorelle Gardens (second photo).

---------------------------------
Day 16
Tuesday, May 30, 2016
ELIZABETH:
Located in between Fez and Marrakech, near Meknes, are the Roman ruins of Volubilis. Volubilis is on the UNESCO world heritage site list. The site was abandoned by the Romans in 285 and was not taken back by them. They were then taken over by the Idrisid Dynasty. On the site are arches, columns, and beautifully crafted tiles that are still intact.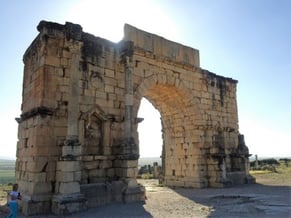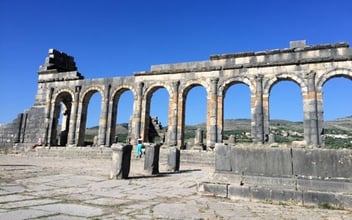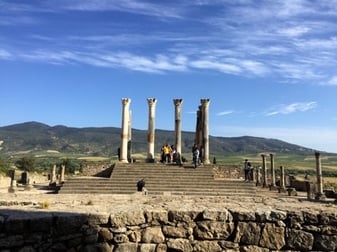 Roman ruins

---------------------------------
Day 17
Wednesday, May 31, 2016
ELIZABETH:
Four hours south of Tangier lies the city of Fez. Fez was the capital of Morocco until 1925. Today it is a bustling city and very similar to Marrakech. The first place we visited was a craft school and work place called Art Naji. There people learn, oftentimes as early as 13 years old, how to make different ceramic art and handicrafts. There they made all sorts of pottery and mosaics and we were able to take a tour and see each step of the process. Fez is also well known for its leather tannery. At the tannery, there are large dying pits with a pungent smell and the people there will give you mint leaves to smell as you enter. All over the rooftops around the dye pits are animal hides drying in the sun. Another handmade craft that is popular in Fez are scarves. We also visited a place inside the market that made hand woven scarves and clothing. We even got to try them on in desert and Berber turban styles. A famous landmark that is in Fez is the University of Al Quaraouiyine. This is the oldest university in the world and was founded in 859 AD.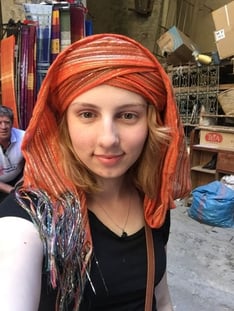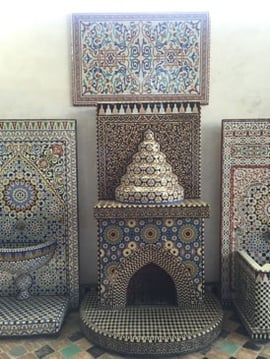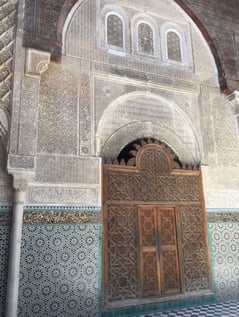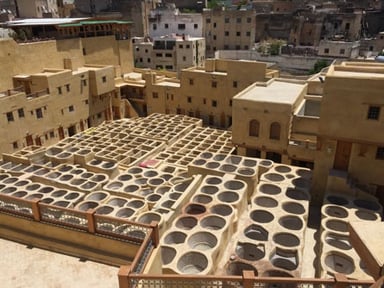 Elizabeth wearing a handmade scarf (first photo), mosaic work from Art Najid (second photo), a wall of the university (third photo), and the leather tannery (fourth photo).
---------------------------------
Day 18
Thursday, June 1, 2016

ELIZABETH:
On our way back to Tangier, we visited Rabat again. There we had a special visit to the American embassy. Phones were not allowed inside. There we met different counselors from the embassy and what their roles were. I was very interested in this because being an ambassador or counselor is definitely a job I'd be interested in.
***
Like this post? Check out: