Iguanas, boas, howler monkeys...oh my! On Feb. 27, 10 JJC students embarked on the learning experience of a lifetime through the Veterinary Medical Technology Belize Study Abroad program.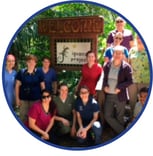 The program introduces students to key topics in wildlife medicine in Central and South America, while teaching wildlife conservation, zoo medicine, and wildlife rescue and rehabilitation. In addition to classroom time at the Belize Wildlife & Referral Clinic, students work hand-in-hand with veterinarians to care for the area's tropical inhabitants.

Read on for first-hand accounts of daily life for veterinary technology students in Belize.
---------------------------------------------------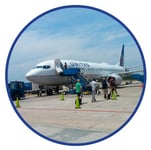 Day 12 (March 10) – Eileen McKee, Professor
For the JJC vet techs, a day of snorkeling and relaxation on Caye Caulker island after 10 days of jungle, lectures and labs before heading home. All arrived home safe from a fabulous adventure!
Day 10 (March 8) - Megan Granko
We began our day at BWRC analyzing possible parasites that may be infecting the stray dog population here in Belize. We collected fecal samples near parks, schools, streets, playgrounds and the river. Our findings were quite concerning. Over half of our samples contained parasites such as roundworms, hookworms, whipworms, strongyles and Giardia! Since all of these parasites are zoonotic and can be transmitted to humans, this is a problem.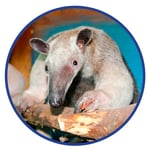 Afterwards we performed necropsies on a goat, red-eared slider turtle, green iguana and a tamandua, a species native to Belize similar to an ant-eater. Our goal was to find out the reason these animals died in order to provide more efficient healthcare for future species. We also performed wing wraps, as treatment for fractured wings, on chickens as well as blood draws. Near the end of a very long day, our team took a well-deserved swim at the pool.
Day 10 (March 8) - Colleen Glaum, Instructor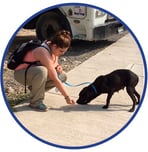 Today we worked with the stray dogs in Belize. The organization CAWS - Cayo Animal Welfare Society, split the group in half, and sent us to separate areas of the town. The objective was to find strays, collar them, and record information on them for future treatments, spaying or neutering. The dogs can be wary, so a lot of patience is required in some cases. We were able to collar about five dogs, and the owners of CAWS were grateful for the help.

After our work with strays, we drove to St. Herman's Cave where we hiked the cave. Everyone loved it! When our hike in the cave was complete, we moved on to the St. Herman's Blue Hole for a refreshing swim. It was another exciting and memorable day in Belize!
Day 8 (March 6) - Jessica Koppi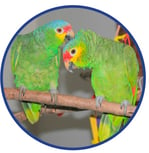 Today we had ourselves a very exciting Sunday Fun-day! We started out by visiting the Belize Bird Rescue. It is a privately owned sanctuary and rehabilitation centre which currently houses 168 wild birds of different species – including the red-lored parrot, white capped parrot, yellow head parrot, mealy (blue head) parrot, two brown pelicans and a roadside hawk. The owners of the rescue are a retired couple who moved to Belize over 10 years ago with no intention of opening a bird rescue. Now they currently own 50 acres of land in which they house and release these birds back into the wild. They are doing such an amazing job for these endangered birds that play such a huge role in the Belize ecosystem.

After having a bite to eat at a restaurant called Cheers, we went to the Belize Zoo and were given a tour! This zoo is special because none of the animals were taken from the wild. They have either been injured, orphaned, born in the zoo, given as gifts from other zoos or confiscated as pets by the government. Many of the animals have become 'ambassadors' for their species because they wouldn't survive if they were released back into the wild. The zoo is now home to over 180 native Belize animals, including jaguars, tapirs, spider monkeys, howler monkeys, harpy eagles, toucans and 30 other species. After a long day of walking, we grabbed some tea and ice cream and called it a night.
Day 7 (March 5) - Olivia Heron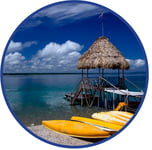 Today was our last morning in Guatamala and the weather could not have been any more beautiful. We had a free morning, so we spent the time shopping, swimming, and a couple adventurous souls went paddleboarding. I went with the swimming group to test the waters of Lake Peten Itza, the lake that surrounds the island of Flores, which was very refreshing and relaxing. We all wished we could have stayed in Guatamala, but we returned to Belize to aid in a public health assessment. We spent part of our afternoon collecting animal fecal samples found in public areas to determine if they could pose a serious health risk to humans. Although Guatamala was beautiful and a nice change of scenery, we are glad to be back in Belize.
Day 7 (March 5) - Rachel Parchem

Today we went to ARCAS, an organization that rescues and rebabilitates animals captured or confiscated from the illegal leg trade in Guatemala. When we arrived, we were welcomed by one of the two main veterinarians there, Alejandro. He gave us an introduction to the faculty and an extensive tour. On the tour we saw many animals including deer, macaws, Amazon parrots, a puma, toucans, howler monkeys, spider monkeys and even got a glimpse of a jaguar that was in quarantine. We learned on the tour how they rehabilitate various animals and about their captive breeding programs, specifically for macaws. After, Alejandro explained the various stages and enclosures for rehabilitation and treated us to a brief lecture on small mammals, discussing different characteristics based on families and species, and different anatomies, behaviors and medicines practiced on these animals.

Afterwards, we were able to practice our restraint and injection skills, check for parasite activity in macaws and Amazon parrots, and administer oral medication for parasite prevention. We ended the day by boating back to the island of Flores in a downpour, which was quite the adventure. We then were treated to a delicious dinner and were then free to spend the night exploring the island and shopping as well. This trip has been amazing and everyday seems to be better than the last. I can't wait for what lies in site for the rest of our trip.
Day 6 (March 3) - Diana Quiroz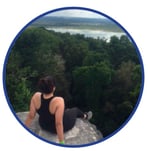 Thank you to everyone who has been keeping up with us during our study abroad adventures. Today's blog is going to be a bit different because we actually traveled across the boarder from Belize into Guatemala. Our first activity of the day was about a 7 mile hike through the Yaxhā national park. The most exciting part was climbing the Mayan ruins. It was a bit of a challenge for those who hadn't kept up on their cardio, but once we got to the very top of the Ruin, the view was absolutely breath taking. All you could see was the bright blue sky and miles of the lush green jungle. When you listened on one side of the jungle you could hear the howler monkeys, and on the other the beautiful sounds of all the rainforest birds.

The second stop was a boat ride to a small island, which almost was canceled due to a sudden downpour - but we toughed it out and thank goodness we did because we had a up close and personal view of a howler monkey mother and her babies swinging through the trees. Just sitting back and observing the incredible communication and care that this monkey had for her babies was amazing.
Day 5 (March 2) - Kate Rendleman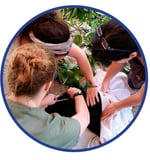 Today we spent the day at the clinic, where we did morning treatments on the green iguanas and cleaned the enclosures. We had an intake of a howler monkey that was found non-responsive in a village. We administered SQ fluids, pedilyte, multiple antibiotics and supplements. Unfortunately even with all of our efforts, the monkey didn't make it. We assisted the veterinarian with a necropsy and suspect, and found that he was septic.
Day 4 (March 1) - Kirsten Pufahl
Today we went to The Green Iguana Conservation Project to bath all 43 iguanas, riding them of ectoparasitic mites. We all really enjoyed getting hands-on experience, while helping the organization and the iguanas. Dr. Isabelle demonstrated blood draws and we were able to obtain some fecal and blood samples to make smears of, bring back to the clinic, and examine under the microscope to practice hematology and parasite identification. The day ended at the clinic with an immobilization lecture and practice with darting.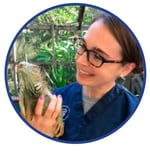 Day 3 (Feburary 29) - Kari-ane Dimas
We woke up to a beautiful morning sun and fresh local fruit as part of our breakfast. Fitting for the lecture that awaited us, we saw a few iguanas out on the trees on the other side of the balcony where we're staying. After breakfast we ventured over to the Belize Wildlife & Referral Clinic for our tour of the facility and lectures given by Dr.Isabelle. The grounds the clinic is on are beautiful, surrounded by trees and cattle as far as the eye can see. In one of the surgery rooms of the clinic, we soaked up all the knowledge Dr. Isabelle shared about Belize, the native wildlife and conservation issues, and the care and medical treatment of reptiles; specifically iguanas. After our lecture we tested our anatomy knowledge by reconstructing skeletons of some native species and later got to meet some of the hospital's current patients including green iguanas, turtles and a howler monkey (the same species we saw in the jungle on Saturday)! We wrapped up the day by walking down to the town center for some local Bambu Tee (tea with tapioca balls) and coming back to our housing to make some salsa with locally grown produce we got from the market yesterday. Today was a good day!


Day 2 (Feburary 28) - Abby Lohan
Today was another wonderful adventure for the vet techs in Belize! We started out our day with a great breakfast served outside overlooking the river. Then we continued on with a walking tour of downtown San Ignacio, where we experienced the sights and sounds of the area and stopped at a local market full of fresh fruit and vegetables! Lunch was spent at Benny's Kitchen, where we ate some local cuisine and enjoyed some really great food! The afternoon was spent hiking and enjoying the sights of the Belize Botanical Garden, where we viewed many different species of plants, trees and occasional wildlife. Finally we spent our free evening with a night on the town and went to some local restaurants to enjoy more great food! We are all looking forward to our first day at the Belize Wildlife and Referral Clinic tomorrow as we start our classes!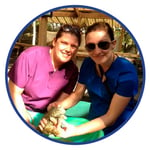 Day 1 (Feburary 27) - Raychel Willson
Today was an awesome first day! We had a smooth flight and landed in Belize City early in the afternoon. Our guide picked us up at the airport and our first stop was The Community Baboon Sanctuary. A local conservationist by the name of Russell gave us a brief lesson on the history of Belize. He lead us through the jungle on a short hike in search of a troop of local black yucatan howler monkeys. Along the way, Russell pointed out native tree and plant species, explaining their medicinal benefits still in use today by many locals. After an unforgettable experience, we were taken to The Fox Club where we will be sleeping for the majority of the trip. The owners Shelly & Sam, a husband and wife couple, invited us in with open arms and instantly made us feel at home. We regrouped at Hodes for dinner. We were served local favorites including tostadas, taquitos, quesadillas and the national dish of beans & rice with stewed chicken. For drinks we tried fresh watermelon juice and sour sap which kinda tastes like a sweetened pina colada. After dinner we enjoyed some fresh ice cream. My favorite was kiwi, but I also tasted cheesecake, banana and sour sap. Today was full of awesome experiences with lots of laughs.