Note: This story refers to the 2017 JJC graduation ceremony.
Twins Ashley and Amanda Bopp, along with their mother, Audrey, have all attended JJC - but their story is a little bit different - because since almost the very beginning, they've been through it all together.
Audrey began in spring 2011 and the twins started after they graduated from Joliet Township High School in 2012. On May 12, the three close family members will sit alongside each other in the Event Center and wait for their names to be called so they can finally hold the diplomas they worked so hard for.
What has it been like for them, pursuing their education as a family? Check out our Q&A below to learn a little bit more about the Bopp family.
Q: Did you always know that you wanted to attend JJC?

ASHLEY (Graphic Design): JJC is a local school, and I heard nice things about it. I've known since I was a little kid that I liked to draw and I wanted to do that for a living, so I took some of the art classes and electives while here along with the required classes for an associate in arts. Before JJC, Amanda and I took a few dual credit classes. Amanda and I knew we wanted to go to the same school because it would make our lives easier.
AMANDA (CIOS): The reason I picked this school was because I heard it had lots of different computer classes because I took dual credit. I've always liked computers and I have been messing with them ever since I was a little kid. Originally, I was going to fix them but I have cerebal palsy - which makes it hard because of the tiny screws. So I thought I could do something with software instead.
AUDREY (Management and Supervision): I came because of the affordability. Besides, why not take the gen eds here which will transfer? Why pay more at a four-year college when it's much cheaper here? At the time I started here, I had 15 years experience delivering newspapers, and my daughters were juniors in high school. I knew I couldn't keep doing it because it's a physically hard job. I work seven days a week, 365 days a year. I work nights, so coming to JJC really worked out. It took me five years to get through it, but now I'm here. I'm 46 years old, and I started when I was 40. After graduation, I'm quitting delivering newspapers, and I just want to move on with my career. I didn't even think I'd end up with an associate degree. I always liked school when I was a kid, and just to have that piece of paper to say I did it - that's something I always wanted.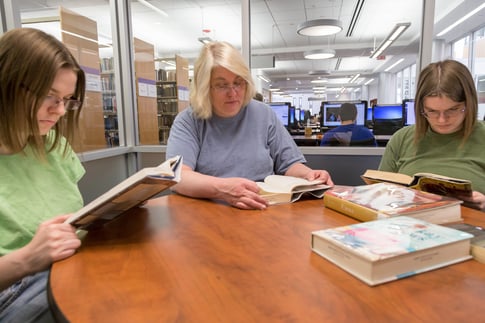 Q: What are others' reactions when they find out that you are all going to school together?
ASHLEY, AMANDA, AUDREY: Surprised!
AMANDA: On my dad's side everyone was very surprised, and on my mom's side, they were just happy that my mom was going back to school. My dad is very supportive. And our friends have been very supportive of all of us.
AUDREY: My Aunt Nancy is my biggest supporter.
Q: Have the three of you taken classes together?
ASHLEY: We took a history class with Dr. Karen Reid. She was so nice. The class was awesome. One day we're talking about the Santa Maria, the Pinta and we can never remember the third boat. One day, we're all at home doing homework, and Amanda and I are saying, "Oh, there were no boats." And in class the next day we found out that there were, and Mom turns around and says, "I told you!" And Dr. Reid just stops and gives us this look. It was so funny!
AMANDA: My mom took Human Relations with Tim Hochhalter. I took it after her because she suggested it and said it was an interesting course. And the first day I walk into class, Tim goes, "This is my hardest class for everyone except for her mother!" Then a week later he says, "You know you're sitting in your mom's seat, right? Did she tell you where to sit?" And I said, "No."
AUDREY: Tim's class I had to have for my degree, so he told me the class was really hard, but I pulled a B - I almost had an A. And he says to me, jokingly, "I expected an A out of you!"
ASHLEY: Amanda and I took math together because we actually both struggle with math, big time. And if it wasn't for our teacher, Laura Egner, we wouldn't have made it. She was super understanding and took time to help us.
AMANDA: I learned more from her in one class than I did after two years of math in high school.
AUDREY: I liked when we alternated classes. If one of us took a class in a previous semester, and if another one of us was struggling with it now - it was usually me - one of them already took it, so they could help me.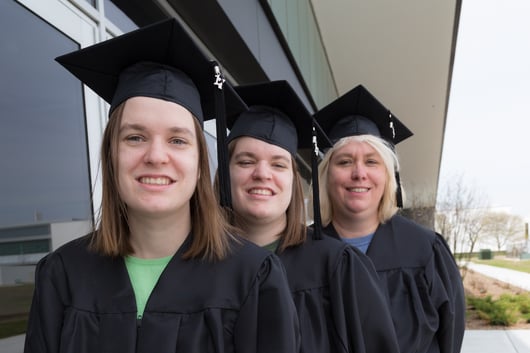 Q: What are you most excited about for graduation?
ASHLEY: Just being able to go on to a four year school and focus on my career is awesome. Right, Amanda?
AMANDA: Yeah, and I'm proud of myself that I've gotten this far!
ASHLEY: On our dad's side, out of all of our grandparents' grandkids, we're the first ones to go to college.

AUDREY: I can't wait for our graduation party! And I'm ready to go get a new job.
Q: What's it like doing this together as a family?
ASHLEY: It's great to carpool, to be honest! We could plan around things nicely. There's a lot of good things that come with this, and it doesn't matter how old you are, my mom is not even that old and some people even at her age think they can't do it, but yes they can.
AUDREY: I'm working full time, I'm going to school almost full time and I have a family and a house. I believe anybody can do this.
AMANDA: What I like is that we were able to help each other with homework. The other day, I was able to help Ashley with her sociology homework. And then she's helped me with my math homework before, and my mom has looked at my business homework for Tim's classes.
AUDREY: And they've helped me write papers - that's my hardest thing I struggle with. And they are really good at that.
ASHLEY: And in Dr. Reid's class, it was kind of fun to compare each other's grades. To see who was going to get the A!
AUDREY: I think going together means there's a lot more support for each other. The pressure's off. You understand what the other person's going through, and their stress level.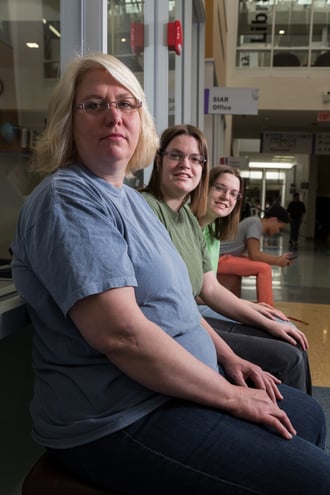 Q: What have you learned?
AMANDA: I learned how to be patient with other people. Don't get too upset if they are not going at the same pace you are. That's my biggest problem, I tend to rush through my assignments, and I get told to slow down.
ASHLEY: If it doesn't go well, try again.
AUDREY: What I've learned is I really like the kids - they're not kids, but they're kids to me - in class. And they will help me even though I don't know them. Also, nobody judges that you go to StAR. Instead, they'll ask you how to get help from StAR because somebody else might be struggling.


Q: What was your experience like with StAR (now called Disability Services)?
ASHLEY: We love StAR - we're all in StAR. You know when you're a kid and you say you need help but you feel bad about it? You don't have to feel bad.
AUDREY: All the professors were very good about accepting the StAR letters for accommodations. I do have to give them credit.
ASHLEY: The StAR staff - all nice people.
AUDREY: Everybody in there is so helpful.
AMANDA: Ashley and I used the tutoring there for math and it was great.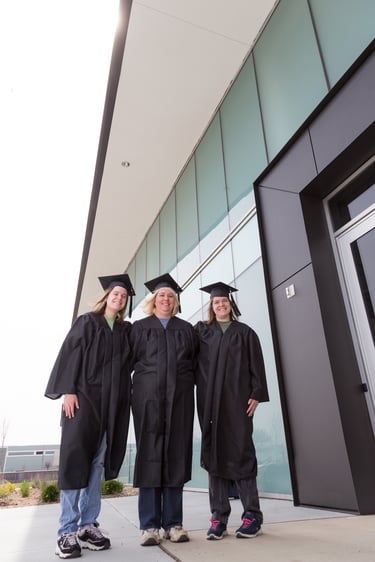 Q: Do you have different approaches to schoolwork?
AUDREY: I'm obsessive compulsive. I want to make sure it's done and it's done right.
AMANDA: I try to keep a schedule. For example, in a previous semester, I took three online courses, which was nice, but at the same time you have to have the self-motivation to actually do it. That's why keeping a schedule really worked for me.
ASHLEY: I'm mostly relaxed, but it depends on the subject. I plan throughout the week what I'm going to do here or there and I keep a window in case something doesn't get done exactly on that day. I make sure I stay on top of it.
Q: What have been the biggest challenges and how did you overcome them?
ASHLEY: For me, personally, it was the math! All the classes were difficult but we tried different formats - a regular class, and two hybrid class attempts until my sister and I both passed in the hybrid class.
AMANDA: We ended up persevering through!
AUDREY: Accounting, I had a hard time with. I really liked it but it was so much to take in. But I would go to tutoring twice a week every week. I passed!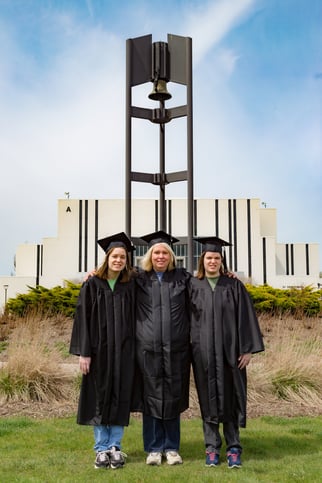 Q: What are your future goals?
ASHLEY: Right now my future goal is to go to a four year school and learn more about graphic design. I'm excited to go!
AMANDA: I want to find a good IT major that's right for me. I've always messed with computers, ever since I was a little kid. My mom, as a newspaper carrier - sometimes people would discard their computers on the curb and she would bring them home to me and say "Here, figure out how this works!" And that was probably the thing that turned me on to computers.
AUDREY: My future goal is to find a good job with benefits, time off and paid vacation. I also just want to say that anybody with a learning disability can get through this, because the three of us, we all have learning disabilities - and we did it!
AMANDA: And don't quit!
AUDREY: Ask for help. Because everybody's struggling with something. And you don't have to go to school full-time, you can just go part-time. Don't keep your stress inside because there are so many people out there willing to help you.
***
Like this post? Check out: