From June 1 to 18, a group of Joliet Junior College students arrived in China for the experience of a lifetime. Unsure of what lay before them, the group was excited to explore a new culture, new cities and to meet new people.
Read their firsthand accounts below to see what it was like studying abroad in China this summer.
Interested in Studying Abroad? Click here to see what opportunities JJC has to offer!
--------------------------------
June 1-3, 2017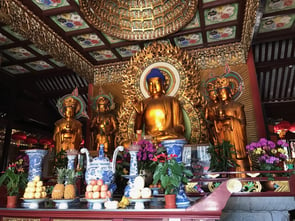 Sarah Pajeau
After 14 hours of being on a plane, we arrived at the Shanghai airport. We were filled with excitement as we walked through and made our way to the exit. We found our hotel with the help of the maglev (short for magnetic levitation). Our hotel was near Nanjing East Road, a very popular main shopping street in the city of Shanghai. Later, as a group, we went to Nanjing East Road to explore and find dinner.
The next morning, we went to the old town to look at a temple. It was very interesting to see its age and to learn about history and Buddhism. After the temple, we went to the Yuyuan Garden. There was a small pond in the garden with coy fish, bridges, and nature all around. The temple in the old town and the Yuyuan Garden were both great introductions to the country of China.
--------------------------------
June 4, 2017
Giovanny Valadez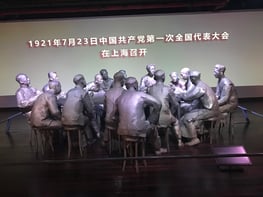 On our first official night in Shanghai (not counting the previous arrival night) we visited Shanghai's famous Bund. Imagine taking a stroll through Chicago's river walk, only in an exotic new country surrounded by buildings you've never heard of or seen before. The skyscrapers illuminate the sky with their glowing show of lights and displays. The boats on the river are just as mesmerizing as the buildings; ranging from typical two deckers to pirate ship all for enjoying the Bund. Visiting the Bund is a must even if it's just for a stroll.
The architecture alone is enough to draw in people, but this neighborhood has a great amount of political history tied to it. The French Concession was where the Founders of China's C.P.C first held their meeting. It was illegal for them to meet anywhere else, so they took advantage of the French embassy's location and power in the neighborhood to gather.
There is a museum in the neighborhood that shows the government's communist founding in the neighborhood. It helps those who know so little about the country to glance into China's version of Philadelphia.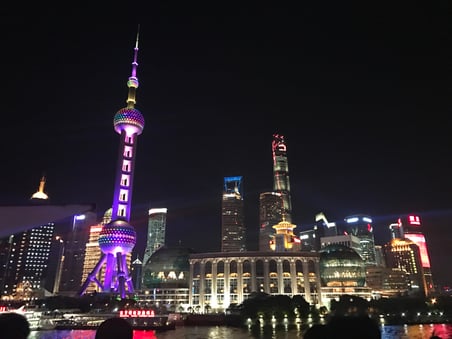 --------------------------------
June 5, 2017
Marina Griffin
We arrived to Nanjing by train, where we were picked up by a student assistant named Zhang Yutong (we called her Tong for short). Tong is an English speaking student from Nanjing whose major is tourism. Tong took us onto a bus labeled "Jiangsu Institute of Commerce." It was a bus we would come to know very well from many hours of traveling and sight-seeing.
Once we arrived to the Jiangsu Institute of Commerce, we were taken to our dorms and introduced to two other student assistants named Shi ShanShan and Sun Yue (whose English name is Luna). After showing us our dorm, we were taken to the school cafeteria for dinner. Practicing my Mandarin with Shi ShanShan and Luna was an amazing experience because I was able to communicate with native speakers for the first time. Not only was I able to work on my Chinese, but this was an excellent opportunity for Shi ShanShan and Luna to work on their English speaking skills, too.
When I asked them when they learned English, after complimenting their proficiency, they responded that they are taught English in kindergarten and primary school (until about age 9) and that this was their first time being able to use the language to communicate.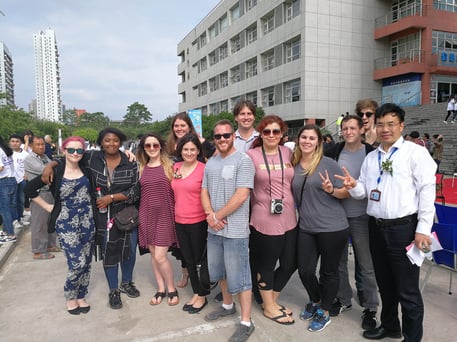 --------------------------------
June 6, 2017
Marina Griffin
We went to the Nanjing Museum and learned that it was actually one of the first museums to be established in China. There are 12 exhibition halls which include modern art, ancient paintings, silk products, folk art, Jade Hall, earthenware, and more.
In Jade Hall, there was a suit made entirely of jade bound together with gold thread. It was a burial suit created for wealthy aristocrats and emperors. Seeing the craftsmanship from ancient times was extremely impressive, especially when taking into account that almost everything we were viewing was handmade. Anyone with a special interest in Asian art, silk embroidery, ceramics/earthenware, or ancient Asian history should consider visiting this museum to learn more about their culture and art history.
--------------------------------
June 7, 2017
Marina Griffin
We took the subway from our dorms to Xuanwu Lake. When we got there, we were given freedom to roam the island and explore the scenery. One of my favorite parts on this trip was visiting the Lotus Garden that was located in the middle of this island. Lotus flowers are beautiful and arise from swamps; they represent beauty within the ugly, the good within the bad.
Xuanwu Lake is a place for people to interact, spend time with friends and family, relax, exercise, people watch, and more.
--------------------------------
June 8, 2017
Marina Griffin
Each morning at the Jiangsu Institute of Commerce, we would have a lesson on one topic of Chinese culture. On Thursday, we met our teacher whose English name was Cynthia. Cynthia is a Chinese teacher at the Jiangsu Institute of Commerce and she speaks fluent English. She taught us about the Chinese handicraft of paper cutting and the symbolism behind it.
In our lesson, we learned about the Chinese character for happiness and that Chinese people always prefer everything in pairs (double happiness).
We were then taught to make some basic designs. First, we created the symbol for double happiness - which most of us were able to do easily and were excited to see our new little creations. Then, we moved onto creating a lotus flower, which was more difficult for those of us who have never tried origami, paper cutting, or just weren't the best at drawing and cutting. Those of us who had success with the Chinese paper cutting were happy with our results and some of us just got a good laugh from our failed attempts.
--------------------------------
June 9, 2017
Daniel Kenney
The Nanjing Memorial was probably my favorite part of the trip. Upon arriving, we were immediately greeted by statues depicting the atrocities committed by the Japanese.
These statues eventually led us to a courtyard, which contained a large wall and bell, which listed the total number of causalities. Inside the building itself we found countless statistics and stories from the massacre. Graphic and chilling videos covered every inch of the hallways. Toward the end, a majority of the exhibit was dedicated to those who assisted citizens of Nanjing during the Japanese invasion. After the exhibit, we were led into the mass grave, which contained the bodies of more than 10,000 people.
When we visited the Confucius Temple, I was expecting a big, ancient temple for us to explore, but it turned out we were just brought to a collection of stores in this little market. Most of the stores were restaurants.
--------------------------------
June 11-12, 2017
Sarah Fischer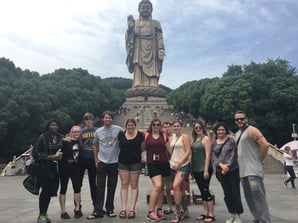 After experiencing the fast-paced city life in Shanghai and Nanjing, it was refreshing to visit places like Wuxi and Suzhou, which held a lot of the natural, traditional beauty. In Wuxi, we visited China's largest standing Buddha statue, which stood 80 meters (250 feet). The beauty and grandeur of the statue was breathtaking, and I was fortunate enough to experience the view from the pedestal it stood on. We also visited China's very first film studio in Wuxi. It reminded me of an Oriental-style Hollywood, and also had beautiful elements of nature and architecture.
Of the two cities, Suzhou was my favorite. When we first arrived there, our tour guide, Linda, told us: "In Heaven, they have paradise. On Earth, we have Suzhou."
At the Tiger Hill Scenic Spot, we walked through old parts of the city where lush greenery covered the stone walls and canals ran through several areas of the town. We also visited an old, seven-story pagoda and I enjoyed the centuries-old architecture that I expected for China. We walked through the Humble Administrator's Garden, one of the several classical gardens of Suzhou. The culture and beauty were overwhelming.
Near Suzhou, we explored the Zhou Zhang water town. During our visit, it rained heavily, but I still enjoyed exploring the alleyways and viewing the canals while walking through the town.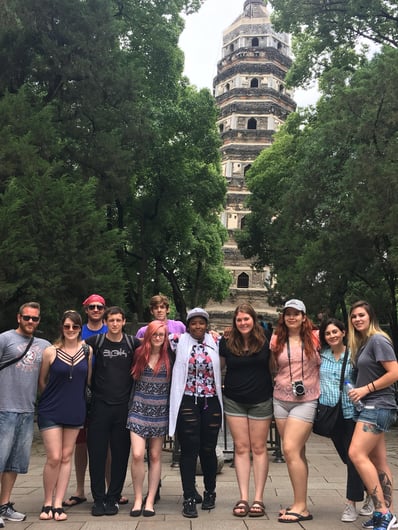 --------------------------------
June 14, 2017
Phil Lyke
The most interesting part of the trip was when we went to Tiananmen Square and the Forbidden City. As we walked into the square, we noticed a huge portrait of Mao, also known as the father of communist China. Mao's portrait was so big and was perfectly centered on the wall that it was as if his eyes were tracking your every move.
"Tiananmen Square" means "the gates of heavenly peace." It is located in the center of Beijing. Here you can find the Tianenmen Tower, which was built during the Ming dynasty. I learned that when the last feudal kingdom ended, the only ones who could enter were members of the royal family.
The Forbidden City served as the home of the emperors as well as the ceremonial and political center for Chinese government for 500 years. The inside was tremendous in size and the structures of these buildings were so elegant, we couldn't stop taking photos. Inside, there is a dragon line which extends through Tianamen Square, Forbidden City and the Olympic Park. This day was undoubtedly a highlight of the trip - and it will definitely be an experience that I will carry with me.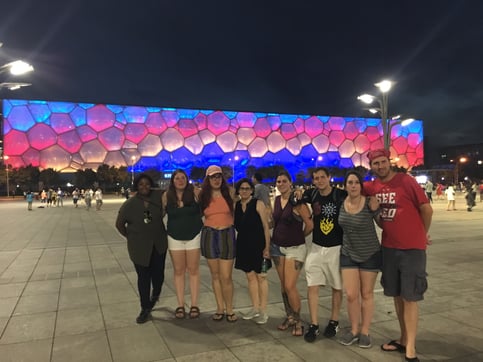 --------------------------------
June 15, 2017
Jeremy Reed
On our second full day in Beijing, we went to the Great Wall. In order to arrive on top of the wall, we took a ski lift which offered a spectacular view of the mountains and lush forests. The wall itself offered an even better view, though you had to work for it. As we walked along the wall, we continued to go up even higher. The walk up the stairs was long and grueling.
After we finished hiking along the wall, we took the toboggan slide down the mountain to return to the bus. The slide down offered a brand new and equally beautiful view of the mountain and forests. It was also incredibly fun. Then we ate at the Quanjude Origin Roast Duck Restaurant. The meal was absolutely delicious. It was without question the best meal that I experienced on the trip.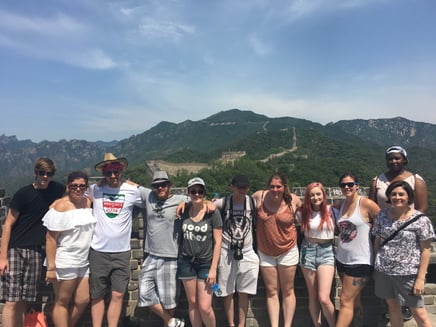 --------------------------------
June 16, 2017
Kat Skinner
We had an excursion to see the Everlasting Pavilion of Imperial Spring (wan chun ting). In order to reach the Jingshan area, we had to walk across the river and through some gorgeous parks. This was also the park where the last Qing emperor hung himself to avoid being captured.
After climbing steep hills and stairs, we reached the top of the hill to see some wonderful views. From the top, we could look out and see the DianMen Dajie' with the Drum Tower at the end, the Beihai Park with its White Dagoba, the Imperial Palace grounds, and a perfect panoramic view of the Ancient City grounds. There was also a giant golden Buddhist statue at the top. It was a very neat experience to see real monks saying prayers and relaxing in the shade. Being a Buddhist myself, it was an unreal experience to be able to pray where there were statues and figures bigger than I could have ever imagined.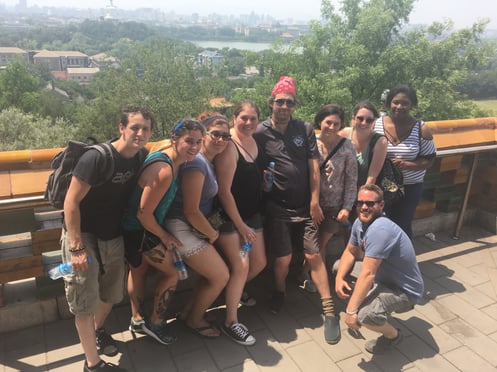 --------------------------------
Like this Article? Click below to: