Wouldn't it be nice to know exactly what your dog is thinking?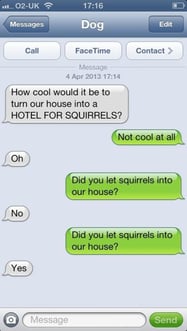 OK, so maybe your dog isn't as crazy as the hilarious "Texts from My Dog" series (shown to the right), but you have to admit – don't you wish that sometimes, you could sit down and have a real conversation with Princess, Max, or Buddy?
While having an actual conversation with your pet may seem far-fetched (pun intended), there may be one way you can get closer to figuring out what's really going on inside your dog's head.
At JJC, our vet tech students are better understanding what dogs are thinking via a behavior testing class, taught by professor Jan Walters.
In class, students learn how to perform tests on dogs so that they can not only learn why a dog may be acting a certain way, but also to properly gage each animal's aggression level. After reviewing the results, they can even help improve the dog's behavior.
This is important because since the students are working with dogs from local animal shelters, they can help dogs become more adoptable by reversing bad behavior.
Below, find a video and a list of four different behavior tests students learn how to do in class.
The Hugging Test
Dogs don't interpret hugging as a term of endearment - instead, they find it quite annoying (Note: For this reason, hugging your dog is not encouraged). By performing the hugging test, vet tech students can gage the dog's tolerance level. Zayne, their adorable model, is shown below, trying to escape the hug by a "look away," or lifting his head up and away from the student. As long as the dog isn't biting, growling, or showing aggression in any way, his behavior is acceptable.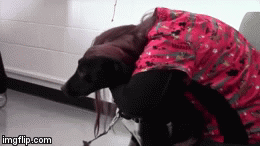 Introducing New Animals
Zayne's behavior when being introduced to a new animal was also acceptable. Instead of growling or biting, he went in immediately to sniff the other dog (normal, polite behavior) and then showed his new friend that he wanted to play.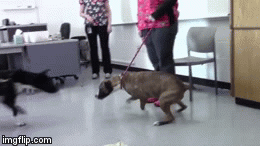 The Trade Game
The Trade Game works like this: Give the dog one chew treat, then take it away from him and trade it for another chew treat. If the dog is not growling or biting during the exchange (like how Zayne properly demonstrates), then that's a sign of good behavior.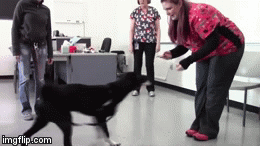 The Umbrella Test
The "Umbrella Test" introduces dogs to something they've never seen before (Zayne had never seen an umbrella). The important thing to watch for is how he reacts to this new object - is he scared or curious? A fearful dog is just as likely to bite as an aggressive dog. Zayne demonstrated proper behavior with curiousity, and went up to sniff the umbrella.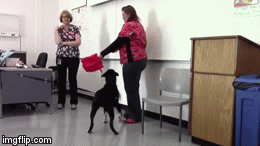 Like learning about these tests? Watch the full video below!
***
Thinking about becoming a veterinary technican? Check out: