Applying for scholarships can seem intimidating on the outside, but what many students don't know is that it's one of the easiest ways you can earn money for school. No joke.
And that's FREE money, btw!
But it takes too much time. And I'm going up against SO MANY OTHER students who probably have higher grades than me, so why bother? Right? Wrong!
JJC has more than $500,000 in scholarship money to award this year - so don't miss out on this golden opportunity. If you're not sure if applying for scholarships is the right route for you, we encourage you to think again, and take a look at our scholarship myth list below.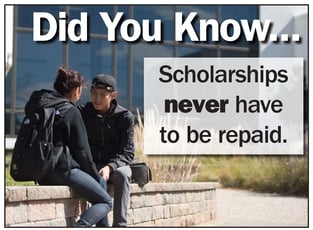 Myth #1: Most scholarhips require high GPAs.

HERE'S THE TRUTH: While some scholarships do take your GPA into consideration, there are many others that find other things more important - like student talent, merit, extracurricular activities, financial need, etc.
Myth #2: Since I'm not a student with financial need, I don't have a great chance at receiving a scholarship.
HERE'S THE TRUTH: Many scholarships are awarded based on merit or talent - not need. There are scholarships for students who volunteer, scholarships for those with unique hobbies, etc.
Myth #3: There's too much competition!
HERE'S THE TRUTH: The competition isn't as high as you would think. JJC has a wide variety of scholarships, and since many are very specific, they may only apply to a handful of students filling out the application. In reality, for some scholarships, you may be up against only three to five other students!


Myth #4: Applying for scholarships isn't worth the effort.
HERE'S THE TRUTH: Winning one $500 scholarship may not seem like much when you're facing thousands of dollars in tuition each year, but every dollar is a dollar you won't need to earn or pay back later. Think of it this way: if you put six hours into scholarship applications and receive one scholarship for $1,200, that's like earning $200/hour.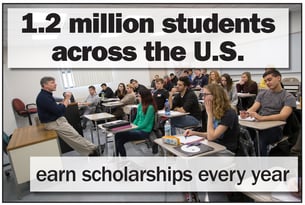 Myth #5: I'm a non-traditional student (I'm an adult student, I'm only part time, etc.), so there isn't much out there for me.
HERE'S THE TRUTH: This is completely inaccurate! There are scholarships for adult students, part time students, single parents and more!
Myth #6: It takes too much time to apply for scholarships.
HERE'S THE TRUTH: JJC's scholarship system, AwardSpring, will automatically match your application to the scholarships for which you qualify. You only have to fill out one application - but you can apply for as many scholarships as you want.

Bottom Line:
Don't believe everything you hear! Do your own research and remember that there are thousands of dollars in scholarship funds available at JJC to students of all ages and from all backgrounds. Some of that could be yours - go get started!


Need Help?
The Tutoring and Learning Center (C-2010) can help you apply for scholarships! Visit www.jjc.edu/tlc or call (815) 280-2730 to make an appointment.
You can also contact JJC Finance and Scholarship Coordinator Patty Osborne at posborne@jjc.edu or (815) 280-2540.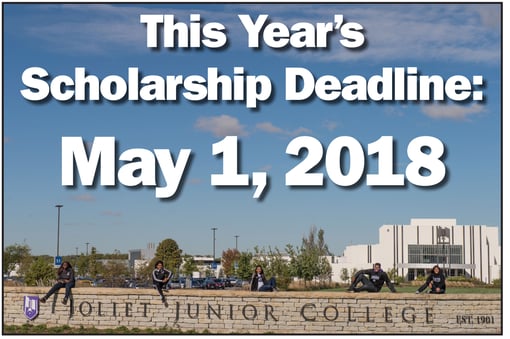 Related Posts
Money Saving Hacks
Student Loan Myths: Busted!
Why Dual Credit is the Best Thing for Your College Career
***
Like this post? Check out: