Over 1,400 classes. That's how many were transferred online in just two weeks as Joliet Junior College quickly moved to provide a safe environment for learning and teaching as the COVID-19 pandemic began to impact Illinois in mid-March. The process brought with it a lot of adaptation among JJC professors and creative modifications in order to provide the best learning methods possible for their students.
Many of these processes will continue this summer, as JJC continues online only learning. In the fall, all lecture courses will be held online, while in-person labs may be possible should conditions be safe for doing so. Let's look back on how our professors modified their courses for online, methods that will only improve as the college continues remote course work.
Dr. Karen Roberson - Nursing Professor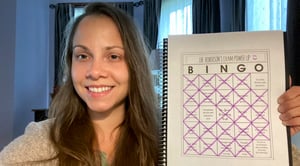 Since they can't be around actual patients right now, students (such as Valerie Smith, pictured) in Dr. Karen Roberson's nursing classes are playing bingo to help learn bedside care.
The items on the bingo cards engage the students to think like they are at a patient's bedside, some spaces even encourage them to go live on social media to share tips about staying safe from the virus. Even when they aren't at the clinical site, they are learning as if they are.
Mary Sue Gurka - Technical Professor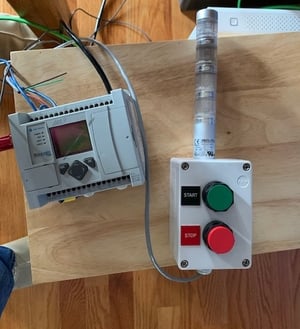 So how do you teach a lab class on programmable logic controllers and robotics online? For starters, JJC Professor Mary Sue Gurka turned her home into the lab (programmable controllers pictured), and conducted her class learn via video conference.
"I'm really surprised at how interactive they've been," Gurka said. "Students show up in their pajamas, their kids are running in and out, and they're still really engaged. They wanna ask questions. They look forward to the meetings. I think they're interacting with each other really well, too."
Watch: Gurka explains how her class works
Jason Howland - Biology Professor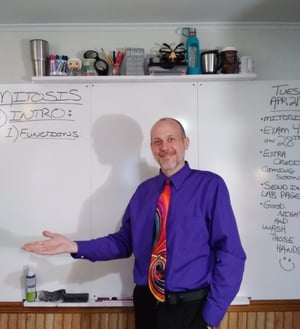 Instructor Jason Howland turned his kitchen into a classroom by creating his own dry erase board and hanging on the wall. The DIY project, which cost a fraction of what it would to buy a board outright, aimed to restore classroom normalcy as he taught remotely and his students learned via video conference.
"Can I teach from home? Can I build a classroom at home?" Howland thought. "So now when my students and I come together for a brief moment out of our day to talk about biology, all of the chaos outside fades away and it's normal – it feels normal. And it's very therapeutic for myself and my students."
Watch: Your dry erase DIY guide
Tammy Miller - Agriculture/Horticulture Professor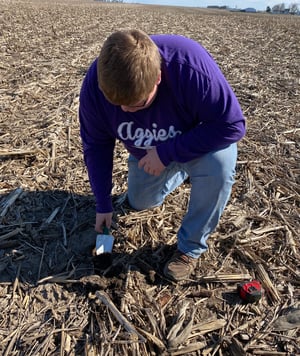 JJC agriculture and horticultural students (such as Payton Sheridan, pictured) collected soil samples from outside their homes, rather than the campus labs where this would normally be conducted. JJC Professor Tammy Miller teamed with GMS Laboratories, Inc. in Cropsey where students could send their samples to get tested. She said students sampled gardens or landscaping while others sampled their family's farmland.
"Both scenarios provide the students the opportunity to apply the knowledge they have gained in their class (AGRI 126 introductory soils) to interpret the results and potentially make improvements to their personal soil," said Miller.
Read: More on the students' remote sampling experience
James France - Social and Behavioral Sciences Professor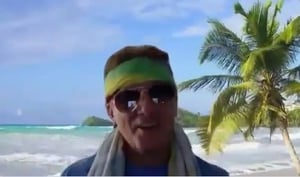 Who said we couldn't hold our online classes somewhere exotic? Professor James France launched his remote class from the beaches of Hawaii.
The fun virtual background he incorporated into the class placed him atop BuzzFeed's ratings for "Teachers really getting into this online thing." Students were asked to bring their favorite towel, pair of sunglasses, and surf board to class!
Watch: Professor France's virtual class
Dr. Deb Fitzgerald - Nursing Professor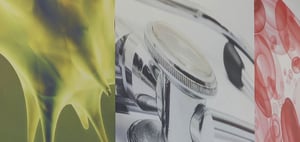 Just as doctors are conducting many services through telehealth during this time, Dr. Deb Fitzgerald coordinated health simulations for her students. She recruited JJC employees to volunteer time as mock patients via video conference. Students were able to ask questions of the mock patients in real time to learn more and offer solutions to their health concerns.
"So we can still connect with each other, and students can see not only their colleagues but each of their nursing faculty members," said Fitzgerald.
Watch: Dr. Fitzgerald talks virtual assistance
Chef Mike McGreal – Culinary Arts Professor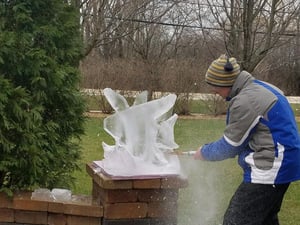 It's not every day you spot your neighbor making ice sculptures outside. But JJC Culinary Arts Chair Mike McGreal turned to virtual ice carving for his students when the college moved to online only.
"Before, we probably wouldn't have stopped to take a picture because we're always rushing from one place to the next with activities for the kids," Trish Soltys, McGreal's neighbor, told the Chicago Tribune. "Now, you realize there's time to appreciate this work he's doing for his students, and we benefit from it too."
Watch: McGreal carve a swordfish out of block ice
Elena Miller - Sonography Professor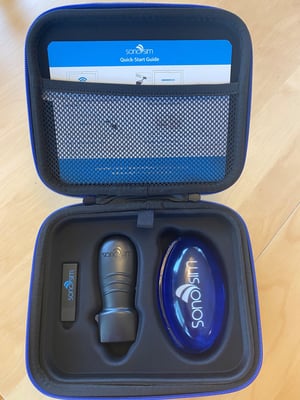 When students lost access to sonography labs and clinical sites, professor Elena Miller equipped them with a portable machine so they could continue to practice scanning from home.
The SonoSim (kit pictured) provides remote hands-on ultrasound training, didactic instruction and assessment. Students were able to produce real ultrasound images of normal and pathologic sonographic conditions and save them for Miller to review.
Jim Coleman - Automotive Professor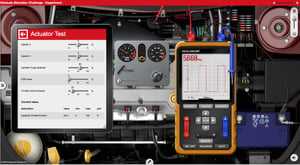 It's hard to imagine learning about vehicles and troubleshooting car issues without looking under the hood.
Using training materials from Electude, Jim Coleman worked with his students remotely to diagnose car computer systems.
What Else is JJC Doing During This Time?
Glad you asked! In addition to the unique ways our professors are modifying their curriculums to adjust to online only learning, JJC employees and students are showing their ingenuity as well. This includes virtual student service options and students turning their homes into laboratories, among others.
We've chronicled many of these examples on our remote highlights page, and showcased in previous blogs. We also have a FAQ page where you can get the latest on campus operation plans and remote services during this time.
Related Posts:
5 Things You Can Do to Adjust to Online Learning
JJC Students Speak Out About Online Learning During Pandemic
How JJC Students Can Seamlessly Transfer to a Four-Year School