While Joliet Junior College classes are primarily online for the fall 2020 semester, student service offices will be available on campus beginning Aug. 3. The changes, which come five months after JJC closed its campuses due to the COVID-19 pandemic, occur as employees begin staggered schedules to support social distancing requirements. Remote student services will remain available during the fall and are encouraged. If you need to visit an office on campus, please schedule an appointment so we can prepare for your visit.
These safety measures, along with several others recently implemented at JJC, are in accordance with CDC guidelines and Phase 4 of the state's Restore Illinois plan. As students, employees and visitors come onto JJC's campuses, it's important you understand the new safety procedures in place, and what will be expected of you upon arrival. For starters, watch our video introducing you to JJC's on-campus safety features and best practices. Then check out the additional information below for a comprehensive look at how JJC is committed to your safety during this time.
Check out additional guidelines below. For answers to common questions on JJC operations, visit our COVID-19 FAQ page.
Know the 4 Ws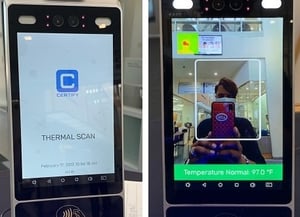 Another easy way to know which safety features to follow is by remembering JJC's 4 Ws of Safety.
Walk in, Take Temperature
Have temperature taken using hands-free thermometers upon entering campus
Device reads temperature at your tear ducts
Fever is considered 100.4 or higher
Wash Hands Frequently
Per CDC guidelines, scrub hands for 20 seconds
Hand sanitizer will be accessible throughout campus
Watch Your Distance
Maintain 6-feet of separation when possible
Social distancing markers are visible in high-traffic areas
Wear Your Mask
Required in all common areas
To be worn over nose and mouth
Masks available upon entry, if needed
If you're experience any symptoms of illness, stay home. You'll be asked to view a chart of symptoms and confirm how you're feeling before having your temperature taken.
A Campus Police officer will be stationed at each hands-free thermometer station to guide you. Your temperature will be visible to only you and the officer.
Where You Can Enter
Entry to campus will be limited to buildings where our hands-free thermometer stations are located, which everyone must first pass through.
Main Campus Entry (View Map): A-Building | U-Building | G-Building | J-Building
Romeoville Campus: Main entrance
City Center Campus: Main entrance
Morris Education Center: Main entrance
Weitendorf Agricultural Education Center: Main entrance
Beyond CDC Guidelines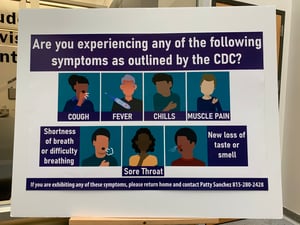 JJC's Facility Services team is committed to maintaining a safe learning and working environment for everyone coming to our campuses this fall. Here are some ways our custodial staff is following and exceeding guidelines by the CDC.
Increased custodial presence throughout the day to wipe down common areas and office spaces

Thoroughly sanitizing restrooms every 2-3 hours

Labs will be disinfected utilizing electrostatic sprayers between labs

Workspaces will be sanitized daily

In bathrooms, paper towels are now available and automatic dryers have been turned off

Increased air turnover rates to/from outside air – HEPA filter changed from quarterly to monthly
What Else do I Need to Know?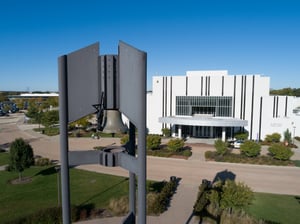 Remember, JJC is primarily online for the fall semester, with in-person labs contingent upon the state maintaining Phase 4 of its Restore Illinois status. Classes begin Aug. 17, with three flex start dates later in the semester. Register now.
Beyond our new safety guidelines, JJC has maintained a page dedicated to the latest operation plans, answers to common questions, and office-by-office services during this time. We've recently added hours of operation for each office, which go into effect Aug. 3. One of those offices, Testing Services, has already resumed on-campus operations by appointment only. This page also includes a live chat feature, should you need any other questions answered.
Related Posts:
Online Success: How Students Can Navigate Remote Learning
5 In-Demand Careers You Can Train For at JJC
How JJC Students Can Seamlessly Transfer to a Four-Year School
***
Want to learn a new skill to take your mind off the pandemic? Check out: