We've seen a lot of unique ways to connect with people safely during this pandemic. That creativity has been on full display within the arts community, from local theatre to Hollywood cinema. The Joliet Junior College Fine Arts Department has maintained its commitment to educate students and entertain the community through a series of virtual offerings, with plenty still to come.
Lori Schahrer, communication professor and Fine Arts Department chair, said many discussions took place last summer on what a virtual world might look like.
"The one thing we didn't need to discuss was if could we do it," said Schahrer. "Everyone was willing to find solutions to continue our events in the virtual world. I am so proud of the faculty, staff, and students for their work in creating virtual events for our students, employees, and community to continue to enjoy theatre, art, and music."
Art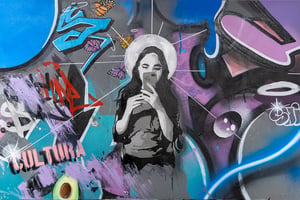 While we've missed the chance to enjoy in person the latest exhibit at the Laura A. Sprague Art Gallery, virtual exhibits and artist talks have been arranged. Last fall's poignant Art of Influence: Breaking Criminal Traditions exhibit was followed by a beautiful collection of student work for the Juried Students' Art Exhibit.
Currently, you can view Sticks and Stones through March 27. This exhibit by Christian Arrecis features photograms, rubbings, impressions, embossed paper, photographs and drawings. They represent the artist's continued interest in the natural world as well as a search for the unintended and accidental in his own art-making.
JJC's chapter of the American Institute of Graphic Arts (AIGA) has also been conducting a virtual speaking series since last semester. Adobe designer Michelle Lipira offers a presentation on March 24.
Music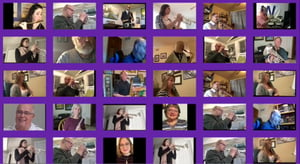 The JJC Fine Arts Department didn't let the pandemic get in the way of making music together. That was evident throughout the fall semester and hit a crescendo for the 2020 Winter Music Concert. That's when seven ensembles combined for one concert. How'd they do it? Band members and choirs recorded from home or in a secure location at a safe distance on campus. The content was then mixed together. Here's a snapshot of how they did it.
The spring Musica Viva Concert series is now underway, with pianist and adjunct professor Yukiko Fujimura performing virtually over the weekend. Up next is a faculty recital featuring Adam Roth, guitar, on March 28.
Theatre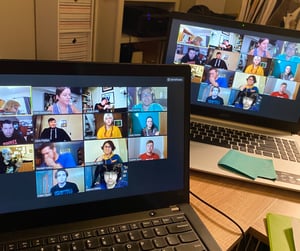 Students have taken their stage presence to another level through the department's virtual plays.
Last year's production of "The Ulysses Blanket" was actually set in a Zoom environment, and earned a write up in the Chicago Tribune. For the holidays, they did an audio-only production of "It's a Wonderful Life," and most recently finished "Good Fortune: A Cautionary Tale." Up next is another audio-only production, "Of Mice and Men," beginning April 23.
Stay Tuned
Want to keep tabs on the latest virtual fine arts events? Sign up to get notified. The department's website and Facebook page are great places to stay current on events.
In addition, the Fine Arts Department has teamed with JJC Institutional Advancement and the Diversity, Equity and Inclusion Council to present Reflections of Resilience, a concert for the community, by the community, premiering on April 22. Watch performances symbolic of 2020's challenges and the resilience it instilled.
Related Posts:
JJC Students Speak Out About Online Learning During the Pandemic.
What You Can Learn About JJC By Taking a Virtual Tour.