As part of a three-year grant, Joliet Junior College is supporting local businesses and students by growing the number of registered apprenticeships. The $140,000 grant from the American Association of Community Colleges, with funding from the U.S. Department of Labor (DOL), aims to create 150 apprentices.
Among JJC's early student apprentices is Alexis Travis, an automation maintenance technician at Suncast Corporation, where she is learning how to install, maintain and repair production equipment.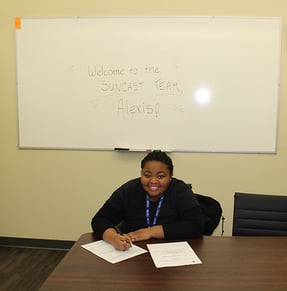 "First and foremost, it is a steady job, which is of course valuable in and of itself. In addition, while classroom learning is absolutely beneficial, real-world, hands-on experience is simply invaluable," Travis said.
Here's what you need to know about JJC's Registered Apprenticeship Program.
What is an apprenticeship?
Apprenticeships provide students with on-the-job experience and prepares them for employment in a specific industry or career pathway.
Once a student completes their apprenticeship program, they will receive a nationally recognized credential from the U.S. DOL to show they've mastered the skills in their occupation.
What are the benefits of an apprenticeship?
You will learn the skills needed to be successful in your career field.

Apprenticeships are paid

,

so you'll earn a competitive wage while gaining experience.

You have the opportunity to learn in the classroom as well as on the job.

You will learn from

a mentor

that has experience in the field.

You

can

earn certificates and/or degrees that are part of

you

r related technical instruction.

JJC staff will

provide

assistance in planning your academic course schedule

. This includes helping determine

which courses

you

need to take

, while working

with

your

employer to ensure

a balanced schedule.

The

program has a variety of grant funds available to pay for your tuition, fees and books. You can complete your college coursework with little to no debt.

You will

earn

an industry-recognized and

nationally-portable

credential.
94% of students who complete an apprenticeship program retain employment, with an average starting salary of $70,000.
What are my career options?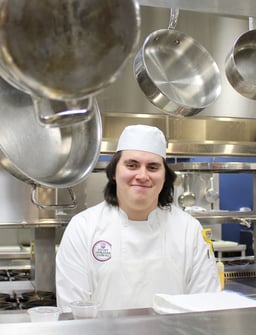 JJC has apprenticeship agreements in 11 diverse occupations,
including advanced manufacturing, culinary arts/hospitality, healthcare, information technology and transportation/logistics.
JJC currently has several apprenticeship opportunities as an industrial maintenance technician, injection molding set-up technician and a CDL driver. You can view the position descriptions here.
How can I get started in the program?
Email your resume to apprenticeships@jjc.edu and indicate which field or occupation you're interested in. A member of JJC's team will then be in contact with you. More information about the program can be found on our website.
Related Posts:
How to Start Your Summer Internship Search
5 In-Demand Careers You Can Train For at JJC