The Joliet Junior College Library is a great resource for not only current students but members of our community to expand their knowledge through a variety of educational platforms.
Located on the second floor of A-Building at Main Campus, 1215 Houbolt Road, you'll find many services within this LEED certified space, as well as online. Here are 10 examples of how the JJC Library can serve you.

1. Reference Desk

Consider this a great starting point for any type of assistance you're needing. Whether it's accessing the Library's databases, requesting materials, or more, librarians are available to assist you in person, and remotely through a variety of channels: By phone at 815-280-2665, through email or online chat, or by texting 815-668-8885.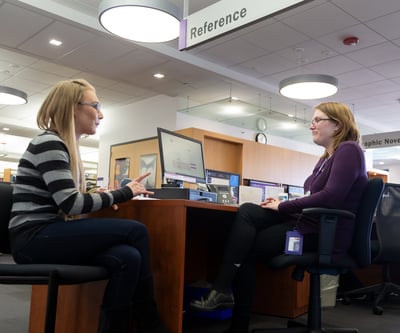 2. Checking out Materials

All it takes for students is their JJC ID card to check out items, from books, laptops, LCD projectors, DVDs and more. You can use your card to access the scanner for free. Charges to print and copy materials are listed here. Plus, students can check out textbooks for free! This allows up to three hours of in-library use only, and is a cost-effective way to stay up-to-speed on coursework.
For community members, books are available for check out from JJC using a valid public library card. A photo ID with current address is also required the first time an item is checked out.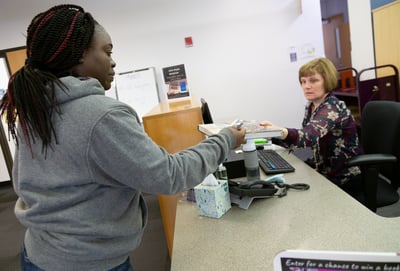 3. Computer Lab
Students and community members can conduct work, access Library databases, or browse the internet from any one of approximately 40 desktop computers. Students will need their JJC username and password to login. Community members can get a guest pass at the circulation desk by presenting a photo ID.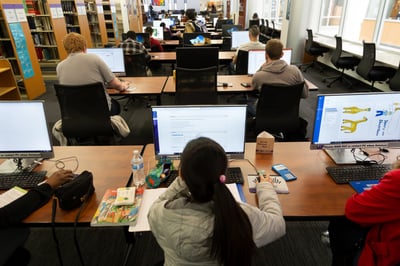 4. Quiet Study
Prefer to study in a quiet area? The JJC Library is the only place on campus that has a dedicated silent study area. In fact, it has multiple spaces reserved for this purpose.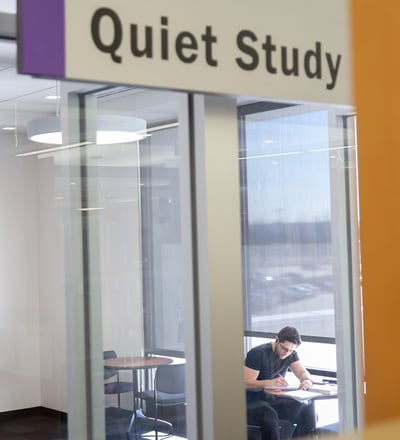 5. Individual/Group Study Rooms
When students are needing to study as a group, there are rooms available exclusively for them so they can collaborate effectively. Students can also reserve a private room just for themselves. Reservations are required through the circulation desk or by calling 815-280-BOOK.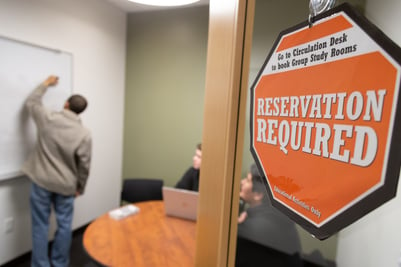 6. Common Areas
If not in a silent area or private room, Library patrons can still work or socialize at various spaces, including tables that seat up to five people, and from their choice of lounge furniture.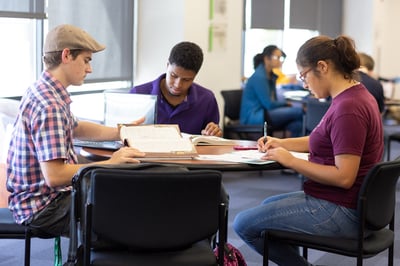 7. Outdoor Patio
What about studying in nature? Weather permitting, the Library offers a patio where you can relax, study, or simply enjoy the fresh air.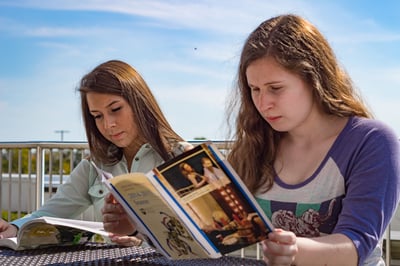 8. Literacy Assistance
Using JJC's Adult Education (AE) Collection, English as a second language patrons or developing readers can get free access to great educational tools. The collection consists of high interest books and adult themes that are easy and quick to read; a great way for people to practice their reading skills. Additionally, bookpacks feature audiobooks paired with print books for a read-along experience that helps language fluency and comprehension.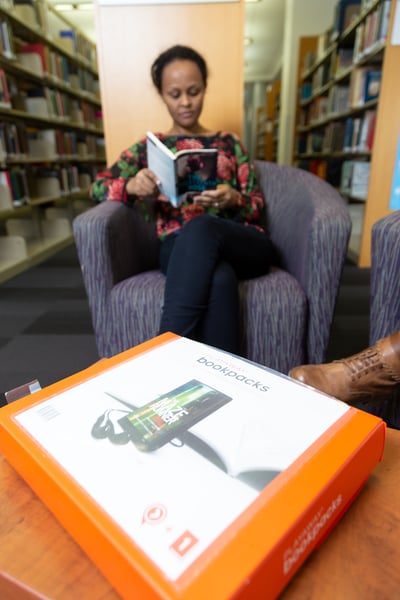 9. Grant Center
Through a collaboration with the Funding Information Network, the JJC Library's Grant Center offers a platform for nonprofits to receive fundraising assistance. It features organizational management and governance guidance, including access to philanthropy and fundraising databases. The goal is to meet the information needs of such organizations located in the southern suburbs of Chicago and the Joliet Junior College district as a whole. Funding for this partnership is provided by the JJC Foundation and the JJC Library.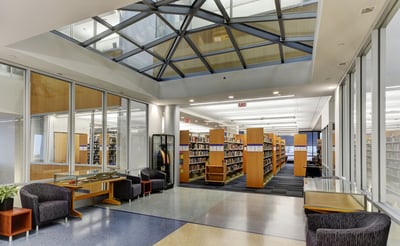 10. Digital Presence
The JJC Library website is a great way to access online-specific resources, such as its A-Z databases, JJC Archives, and Interlibrary Loan, as well as to learn more about all available services, and view hours of operation.
You can also find the JJC Library on Facebook, Instagram and YouTube to learn about new initiatives, upcoming events, and view great informational content from our librarian's perspectives.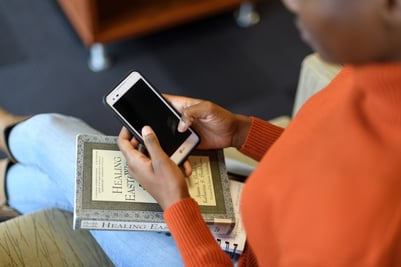 Did You Also Know?
The JJC Library provides select services at its extended campus sites. Romeoville's Learning Resource Center includes textbook check out, computers, a scanner, and study areas. At City Center, which houses JJC's culinary arts program, an assortment of culinary publications are available. Hours of operation vary at each extended site. For more information on these or other services, contact the JJC Library at Main Campus.
Related Posts
10 Best Kept Secrets for New Students
13 JJC Services You Didn't Know About
7 Interesting Photos Discovered in JJC Yearbooks