The Disability Services Office at Joliet Junior College is committed to providing students with disabilities equal access to education.
Students register with the office to determine eligibility for accommodations, which support students' access to resources and assist in their academic journey. Here, we spotlight four ways that Disability Services is assisting students.
1. Testing Accommodations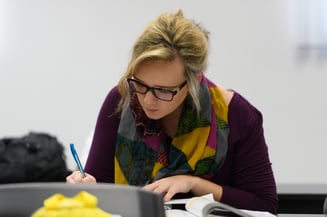 Testing is a big part of college for all students, and can be exceptionally difficult for students with disabilities. While accommodations are not designed to make the test easier, they do support students with the testing process.
"We want to help you find access to your classes. We are here to teach you different ways to approach your academics because we recognize that with just a little bit of creativity, you can be as successful as anyone else," said Adam Wouk, Disability Services manager.
An alternate test site and extended test time may be options for some. Alternative scantrons, or having the test read to students are also available to those with a disability.
2. Classroom Accommodations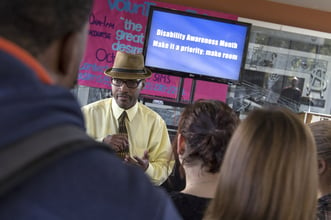 Long classes and minimal breaks can be difficult for some people with disabilities. Having the ability to record lectures, as well as having a note taker, are crucial for some in retaining information.
"In class the assistive technology they provide helps me gets things done in the required amount of time," said Jordan Brooks, from Mokena, an adult education student working toward his high school equivalency. "We have the magnification technology required to help us read small print and things far away on the white board. We also have devices provided to help record lectures if we have trouble remembering things. They also help arrange for me to get extended time and test reading technology for the exams that are stressful enough as it is."
Other in-class accommodations include laptop use, choice of seating, captioned videos, and the use of an interpreter.
3. Coaching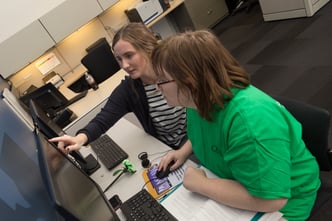 A one-on-one appointment with a Disability Services specialist can assist students who may be struggling with their studies. Similar to an academic counseling session, students will work on things like study habits and time management.
"At the college level, I think it is important to get as much support as you can get. Whatever students may need help with, that particular week, we are here to support them, and give them advice. Coaching is one of the best things that we offer," said Diane McGrew, Disability Services specialist.
4. Assistive Technology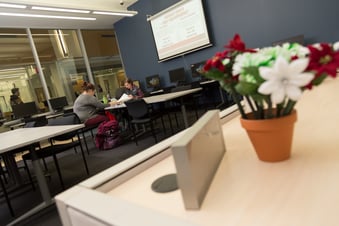 With recent advancements in technology, it is easier than ever to integrate technology accommodations into the classroom.
"Students with disabilities can greatly benefit from assistive technology. We have a variety of assistive technology, but it is really exciting to train students in the use of it and then see how it immediately starts helping them," said Kristina Brozovich, Disability Services specialist.
Speech to text software, as well as screen reader software make it easier for students to understand what is being taught to them. For students with visual impairments, magnification devices and software are available, as well as braille printing to ensure every student gets access to the required information.
Register for Assistance
Students seeking assistance through Disability Services must first submit required documentation to determine eligibility, followed by completing the student intake form. Instructions can be found on the Disability Services website, by emailing disabilityservices@jjc.edu or calling 815-280-2613.
"With Disability Services' help you can be calm in knowing you don't have anything slowing you down when they provide you with great accommodations. These accommodations have helped me get on the right track and I don't have to worry about straining myself. Disability Services staff clearly care to help you," said Jordan Brooks.
Related Posts:
4 Ways the Library Can Prepare You For College
5 Ways to Care For Your Emotional Wellness
Join us This Fall - Flex Start Classes Begin Sept. 7, 20 and Oct. 18!