Joliet Junior College is a place to grow, to learn, to challenge yourself, to meet friends and to connect with mentors. It's where you belong.

Our students, faculty, staff and community members all feel a sense of belonging at JJC for different reasons. In our new #BelongAtJJC blog series, we're featuring a JJC student or employee and sharing why they belong.
First up is nursing student, Wiley's Pack student influencer and student ambassador Ashley Ruiz.
Why JJC?
JJC has one of the most respected nursing programs in the area.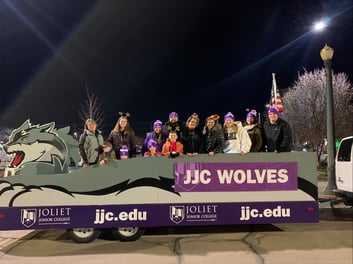 What are some of your favorite memories from your time at JJC so far?
My favorite memory was being able to bring my family to support JJC during the holiday parade. My two older boys had the best time walking and passing out candy to the community.
What is it about JJC that makes you feel like you belong?
JJC makes me feel like I belong because they don't discriminate on your age. As a young professional with small children, it was scary coming back to college. JJC never made me feel like I was "too old" to succeed. If anything, they were more supportive of working moms.
How has JJC helped you succeed as a student and as a person overall?
JJC has helped me tremendously with childcare for my youngest. Without the help of CCAMPIS, I wouldn't be able to attend my nursing classes and clinical.
What have you enjoyed most so far with Wiley's Pack?
I have enjoyed talking to other students of all ages, genders and races to get their viewpoints on topics we cover online. It's interesting to see how each person has their own view on the same subject/question.

Thanks to valuable resources and a welcoming environment, Ashley was able to discover a sense of belonging at JJC. Now she helps promote that sense of belonging and all the College has to offer through her work as a Wiley's Pack social media influencer and student ambassador.
Related Posts:
How JJC Student Athletes Balance Academics and Athletics
Alums Show Appreciation for JJC on Twitter