Joliet Junior College is a place to grow, to learn, to challenge yourself, to meet friends and to connect with mentors. It's where you belong.

Our students, faculty, staff and community members all feel a sense of belonging at JJC for different reasons. In our new #BelongAtJJC blog series, we're featuring a JJC student or employee and sharing why they belong.
Next up is Juell Lagonero, National Society of Leadership and Success (NSLS) president, JJC student government member, Wiley's Pack student influencer, Wolfpack Productions project manager and Muslim Student Society secretary.
Why JJC?
I chose JJC because it was more affordable, and I am able to prepare myself for when I transfer to DePaul University in the fall of 2023.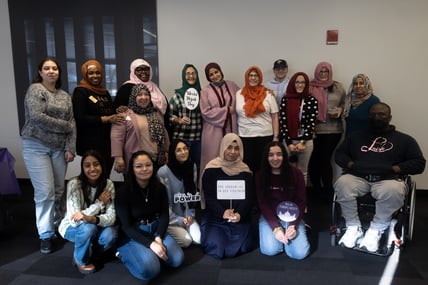 What are some of your favorite memories from your time at JJC so far?
Some of my favorite memories I have had at JJC were from when I worked in the Student Advising Center, joined NSLS as a board member and made friends by getting involved with others along the way.
What is it about JJC that makes you feel like you belong?
The welcoming and friendly JJC staff that I've worked with since the first semester I attended JJC. Never have I had a negative encounter with anyone thus far, and I've been able to connect with other students in the college and join a couple of clubs as well.
How has JJC helped you succeed as a student and as a person overall?
JJC has really helped me learn to network with other people in the college and even as a person. Networking and connecting with other people in my area is crucial because each person at the college and even in the world have different stories that I could learn from and apply to myself. I've also learned to become more involved at my college and build upon my leadership skills as well.
What have you enjoyed most so far with Wiley's Pack?
What I have enjoyed with Wiley's Pack is being able to talk with other students and being able to give JJC a fun reputation so that other students are able to join in on the fun. I've looked forward to fun memories while working with other students in the pack!
What are your plans after your time at JJC is completed? (e.g., transfer, internship, career, etc.)
After I graduate with my associate degree in business, I am going to transfer to DePaul University and major in marketing and minor in real estate and earn my license. I would like to invest in my own property and one day have my own real estate agency. In the meantime, I would like to gain experience working in an office position for a real estate agency or company as well as come to JJC as a guest student to also take some courses during the summer to save more money on my tuition at DePaul.

As a JJC student leader, Juell was able to take advantage of many opportunities JJC has to offer, from extra-curricular activities and student jobs to summer classes and more.
Related Posts:
How JJC Student Athletes Balance Academics and Athletics
Alums Show Appreciation for JJC on Twitter