Did you know that JJC has its very own MakerLab?
Packed with cool equipment (most notably 3D printers), the lab is an environment for both students and the community to create almost anything they want using materials like filament, craft plywood, acrylic sheets, vinyl and more. Note: Anyone can tour or visit the MakerLab during regular hours, but to use the equipment in the lab, you must be a MakerLab member.
Wondering what you can make? Take a look below!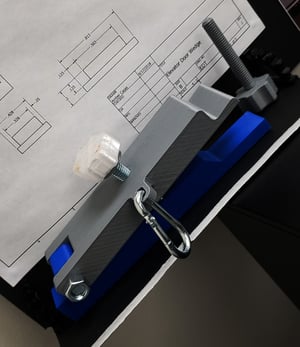 1. Replacement parts
Have you ever broken a handle on your favorite pot or lost the back to your TV remote? You can 3D print almost any replacement item that comes to mind! The photo above illustrates a prototype of a 3D printed safety device.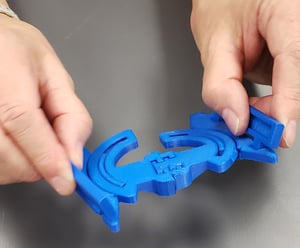 2. Toys
Yes, that's right! From figurines to Nintendo switch bracket (as shown above), the MakerLab is the perfect place to bring your kids for a fun day of creativity. They can choose to design their own toy or print a prototype.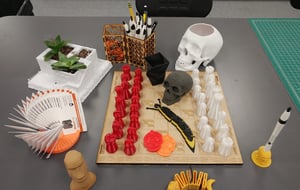 3. Household items
The sky is the limit! You can 3D print any household item - from plant pots, decorations and cup holders to board games, business card holders, keychains and more.



How Does it Work?
Once you know what you want to print, you can either search for a blueprint from free public websites like Thingiverse or MyMiniFactory - or design your own using software provided by the MakerLab (like Sculptris and TinkerCAD). From there, just send the design to the 3D printer. Depending on how large your item is, printing times vary.

The MakerLab is open Monday through Wednesday from 9 a.m. to 2 p.m. each day.
Think you'll need help? MakerLab Assistant Debra Daun is always on hand. She can be reached at (815) 280-6679 or ddaun@jjc.edu.

3D Printing Classes
Want to test out the MakerLab before becoming a member? Take a 3D printing continuing education class. For the latest course catalog, visit jjc.edu/LLC.
Watch one of JJC's 3D printers in action below!

Related Posts
5 Writing Tips for Students
3 Tips for Staying on Top of Homework
5 Snacks to Eat While Studying
Up Your Study Game
10 Best Kept Secrets for New Students