Cinco De Mayo is only one week away! The popular Mexican holiday is celebrated in the United States and Mexico every May 5 to commemorate a battle between the Mexican army and the French forces of Napoleon III more than 150 years ago.
At JJC, we asked three of our chefs from the Culinary Arts Department to share their favorite Mexican dishes in celebration of the holiday.
Check them out below!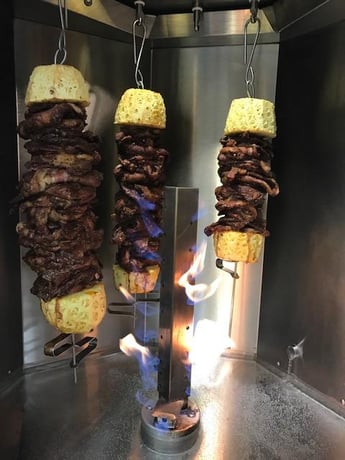 Pork al Pastor (served at Saveur)
Submitted by Chef Paul Bringas
Ingredients:
2 whole ancho chilies, seeds and stems removed

2 whole pasilla or guajillo chilies, seeds and stems removed

1/2 cup chicken stock,

2 teaspoons vegetable oil
1 teaspoon dried Mexican oregano
1 teaspoon dried ground cumin seed
1 tablespoon achiote powder or paste
1 chipotle chili packed in adobo sauce (plus 2 teaspoons sauce from can)
1/4 cup distilled white vinegar
3 whole cloves garlic
2 1/2 teaspoons kosher salt
2 teaspoons sugar
2 pounds boneless blade-end loin or sirloin pork roast
8 ounces (1/2 pound) sliced bacon
Instructions:
Place chilies in a large saucepan over medium high heat and cook, turning chilies occasionally, until puffed, pliable, lightly browned in spots, and very aromatic, about 5 minutes. Add chicken stock (it should boil immediately), and then pour contents of pan into a small bowl. Cover loosely and set aside.
Wipe out saucepan, add oil, and return to medium-high heat until oil is shimmering. Add cumin, oregano, and achiote and cook, stirring frequently, until aromatic but not browned, about 30 seconds. Add chipotle chilies and sauce and cook until aromatic, about 30 seconds longer. Add vinegar, salt, and sugar and remove from heat.
Scrape contents of saucepan into a blender along with garlic and chilies with their soaking liquid. Blend on high speed until completely smooth, about 1 minute, scraping down sides as necessary. Set sauce aside to cool slightly.
Using a very sharp chef's knife or slicing knife, slice the meat as thin as possible, If necessary, place meat in freezer for 15 minutes to firm it up. Split the sides of a heavy-duty zipper-lock bag. Place one slice of meat inside bag and pound with the bottom of a heavy 8-inch skillet or a meat pounder until less than 1/4-inch thick. Transfer to a large bowl. Repeat with remaining meat. Add marinade to bowl and toss with hands until every piece of meat is evenly coated in marinade.
Line the bottom of a disposable aluminum loaf pan with bacon. Add a layer of thin-sliced marinated meat. Continue layering in bacon and meat until all the meat is used up. (It may pile above the pan a little bit. This is ok.) Cover tightly with plastic wrap and refrigerate for at least 4 hours and up to 36.
Cook on the spit of the vertical rotisserie, when finished remove carefully, wrap in foil and let rest for service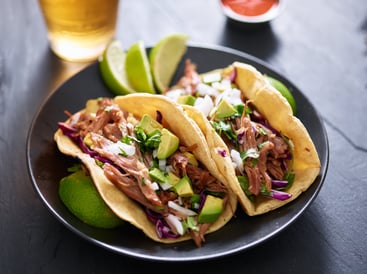 Grilled Carne Asada Tacos (featured in the book, "Culinary Arts Principles and Applications")
Submitted by Chef Mike McGreal
Yield: 8 servings, 2 tacos each
Ingredients:
3 pounds skirt steak, well-trimmed

2 jalapenos, seeded and quartered
3 garlic cloves, peeled and fresh
1 bunch cilantro, fresh leaves only
1/4 cup olive oil
3 limes, juiced
2 lemons, juiced
1 juice orange, juiced
3 teaspoons cumin, ground
1 teaspoon oregano
1 teaspoon smoked paprika
1/2 cup cotija cheese, grated
8 lime wedges
16 corn tortillas
Salt and pepper (to taste)
Vegetable oil (as needed to season/oil grill grates)
Instructions:
Cut skirt into eight equal sized 6 oz portions and place in large zip top bag.

To make marinade, place jalapeno, garlic, 3/4 of the cilantro (reserve final 1/4 for garnish), oil, and juices in blender and pureee until smooth. Add cumin, oregano and paprika to mixture; season with salt and pepper and blend for 1-2 seconds to incorporate.
Pour marinade mixture over skirt steaks; seal bag and shake bag to thoroughly coat meat on all sides. Refrigerate for between 2-6 hours.

Preheat grill to medium high heat about 10 minutes before grilling, and wipe grill grates with vegetable oil to prevent meat from sticking. Remove meat from marinade, discard marinade, and place meat on grill. Cook for 3-5 minutes on each side or to desired degree of doneness. Remove meat from grill and allow to rest for 10 minutes before slicing.

While meat is resting, warm tortillas briefly on grill to soften. Slice each steak thinly across the grain and on a bias.

To serve, divide each cut steak between two tortillas, top with 1-2 tsp grated cheese, 1 lime wedge and a few cilantro leaves.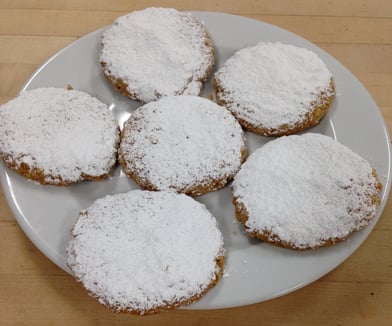 Mexican Wedding Cookies (Pavarones)
Submitted by Chef Mark Muszynski
Ingredients:
11 oz (or 2 3/4 cup) bread flour
8 oz (or 1 cup) unsalted butter
16 oz (or 2 1/4 cup) sugar
1/2 cup pecans, optional
1/4 oz (or 1 tsp) vanilla extract
Instructions:
Combine all ingredients (except pecans) into a mixer with a paddle and beat on high speed until the dough is very light in color and airy. Mix in pecans. Scoop and splatter onto a parchment lined sheet pan and bake at 350*F until golden brown.
Let cool and dust with powdered sugar. They will be crisp and melt in your mouth.

Related Posts
Inspire Pinterest-Envy with these DIY Halloween Cookies
What are You Thankful For?
Thanksgiving Tips and Tricks
Tips for Keeping Your New Year's Resolutions
Best Gift Ideas for Students

***
Like this post? Check out: