Thanksgiving – a time for family, football and food….lots of food (and if you're like me, a good pair of 'after-dinner-fat-pants'). But before the eating comes the prepping, and that's where we can help! Read on for a list of our best Thanksgiving Tips and Tricks.
SPOILER ALERT: These tips won't help you escape Aunt Millie's 'hilarious' story about her cat, or your grandpa's thoughts on the 2016 presidential race.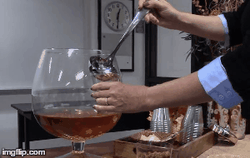 1.) Prep Like a Boss: Ever heard the saying, 'However long you think it's going to take, double it.' Same goes for party prepping. Crossing a few items off your to-do list the day before will save you some serious scramble time the evening of the party – even if you think you'll have 'plenty of time to get it all done.' Prep self-serve drinks, stick Post-It notes to empty platters and bowls indicating where the food should go or prepare a few fridge-friendly dips or desserts that you can pop into the oven an hour before guests arrive.
2.) Set the Mood: No, this step does not involve Marvin Gaye. Create a relaxed dinner vibe by dimming the lights, lighting a few candles, or turning on some dinner tunes using a custom playlist or Pandora. (Bonus: the first two suggestions will make any space look elegant and may hide any spots you missed while cleaning.)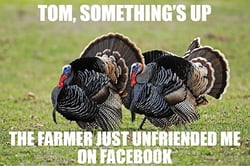 3.) Brine Baby Brine: When in doubt, follow the advice of JJC's Chef Michael McGreal, "When roasting a turkey, let the meat rest in a homemade brine for 6-8 hours before cooking. Brining allows the protein to absorb moisture and retain it during the roasting process, making the meat moist, tender and flavorful."
4.) Crafty? Here's Your Moment to Shine: Give your dinner that personalized flair by creating custom name plates, a Pinterest-worthy centerpiece or homemade decorations. Need some inspiration? JJC Hospitality Management Instructor Catherine Anderson suggests starting with your table cloth. Use a plaid blanket or go to the fabric store and get inexpensive scraps to make a table runner. For the kids table,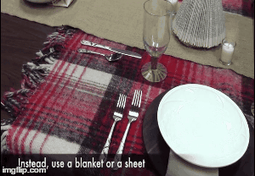 go to the painting section of your home improvement store and buy rolls of brown paper to let them color and draw on their tablecloth.
5.) Mix and Match: Don't be afraid to mix up your décor or table settings. Not everything has to match-y match-y. (Honestly, do you know anyone with 20 chip-free wine glasses that are exactly the same style?) Have fun with different patterns and textures or mix up old and new. Thrift stores are great for scoring those vintage pieces.
For more helpful holiday party tips, watch the full videos below.